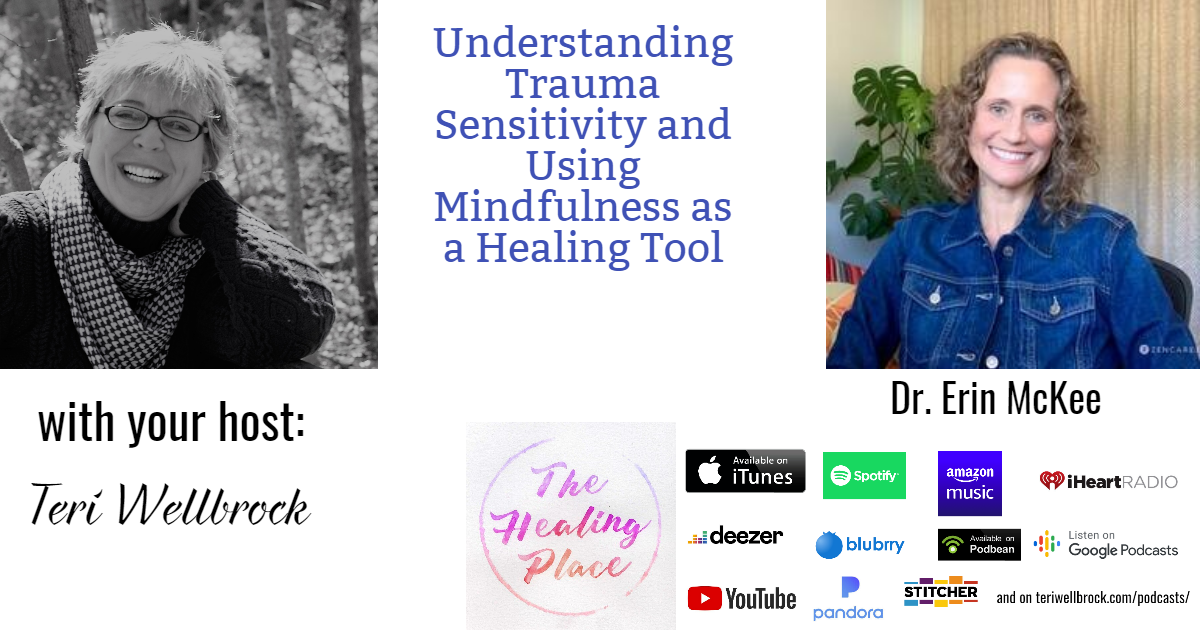 Dr. Erin McKee – Understanding Trauma Sensitivity and Using Mindfulness as a Healing Tool
I was giddy with joy during this informative conversation with Erin McKee, PsyD, clinical psychologist and trauma therapist. Please join us as we discuss:
Dr. Erin's insights on trauma sensitivity
her personal journey as a Navy officer and resulting PTSD
her philosophies on brain plasticity
defining mindfulness practices with examples of healing strategies
and so much more!
Welcome to The Healing Place Podcast! I am your host, Teri Wellbrock. You can listen in on Pandora, iTunes, Blubrry, Spotify, iHeartRadio, Stitcher, Deezer, Google Podcasts, Amazon Music, and more, or directly on my website at www.teriwellbrock.com/podcasts/. You can also catch soundbites of our insightful interview on YouTube.
Bio:
"Dr. Erin McKee's goal is to discuss the important intersection of mindfulness and traditional therapy, especially with the trauma we've experienced around the globe, due to Covid, social injustices and more.

Erin

's areas of expertise include: Attachment disorders, PTSD, Buddhist Psychology, ADHD, anxiety and panic disorders, veteran's mental health and OCD.

Erin

 graduated Magna Cum Laude from the University of Montana. She has a Doctorate in Clinical Psychology and a Masters in Cultural Anthropology.

Erin

 has some unique, important qualifications, including: A long career as a Clinical Psychologist for The Everett Clinic, a major Seattle area clinical network. 

Erin

 served 5 years in the U.S. Navy, spending time as a Ship's Psychologist on the USS Nimitz. She was the only Psychologist to serve 5000+ active-duty sailors and marines. She also developed and implemented a support group for transgender sailors and their partners, thereby decreasing risk of suicide. In Afghanistan, 

Erin

 served as a Staff Psychologist for the Concussion Restoration and Combat Stress Clinic.

Most recently, she received her Certification in Mindfulness Meditation, a limited enrollment three-year course which she was selected to attend, taught by Jack Kornfield and Tara Brach."

Website:
Peace,
Teri
Hope for Healing Newsletter: https://us18.campaign-archive.com/?u=8265f971343b0f411b871aba1&id=1352bd63df
Book Launch Team: https://www.facebook.com/groups/unicornshadows
AMAZON AFFILIATE
Teri Wellbrock and Unicorn Shadows are a participant in the Amazon Services LLC Associates Program, an affiliate advertising program designed to provide a means for sites to earn advertising fees by advertising and linking to Amazon.com. In other words, I make commission off of purchases made using any affiliate links on my site.
Podcast: Play in new window | Download
Subscribe: Apple Podcasts | Google Podcasts | Spotify | iHeartRadio | RSS | More