Rev. Connie Habash – Awakening from Anxiety; Psycho-Spiritual Tools, & 7 Keys to Overcoming Anxiety
Rev. Connie Habash – Awakening from Anxiety; Psycho-Spiritual Tools, & 7 Keys to Overcoming Anxiety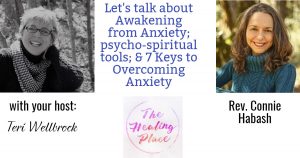 A huge thank you to Rev. Connie Habash, psychotherapist, yoga teacher, and inter-faith minister, for sitting with me as she shares her wisdom. Please join us as we discuss:
Rev. Connie's book Awakening from Anxiety: A Spiritual Guide to Anxiety Relief
a discussion of the 7 Keys to Overcoming Anxiety
an explanation of psycho-spiritual tools
helping spiritual people overcome anxiety
and so much more!
Welcome to The Healing Place Podcast! I am your host, Teri Wellbrock. You can listen in on Pandora, iTunes, Blubrry, Spotify, Deezer, Google Podcasts, Podbean, and more, or directly on my website at www.teriwellbrock.com/podcasts/. You can also watch our insightful interview on YouTube.
Bio:
"Rev. Connie L. Habash, MA, LMFT, is a Licensed Marriage and Family Therapist, yoga & meditation teacher, interfaith minister, and author of Awakening from Anxiety: A Spiritual Guide to Living a More Calm, Confident, and Courageous Life.

Over the last 27 years, she has helped hundreds of students and clients overcome stress, anxiety, depression, and spiritually awaken. Rev. Connie is also committed to nurturing and heart-centered spiritual community. She leads online programs worldwide, as well as retreats, workshops, and yoga teacher trainings in the San Francisco Bay Area. Discover more at her website: https://www.AwakeningSelf.com/  or on Facebook https://www.facebook.com/AwakeningSelf"
Learn more about Rev. Connie and her mission at: https://www.awakeningself.com/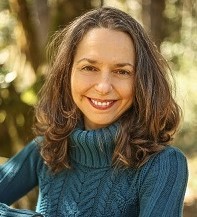 Peace to you all!
Teri
Hope for Healing Newsletter: https://us18.campaign-archive.com/?u=8265f971343b0f411b871aba1&id=1352bd63df
Book Launch Team: https://www.facebook.com/groups/unicornshadows/
Podcast: Play in new window | Download
Subscribe: Apple Podcasts | Google Podcasts | Spotify | iHeartRadio | RSS | More