Rene Howitt – Cope24: Parenting & Child Development Classes for High School Students
Rene Howitt – Cope24: Parenting & Child Development Classes for High School Students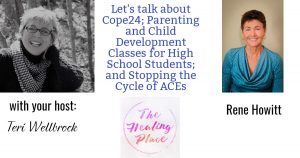 A huge thank you to Rene Howitt, founder of Cope24, for sharing her brilliant insights and passion for educating students and staff on the impact of adverse childhood experiences (ACEs), and the importance of parenting and child development classes. Please join as we discuss:
her personal story of making her way into the education arena
the critical need for parenting and child development classes for high school students
the role of school staff and educators
her video series addressing topics such as How Many ACEs Are You Holding?
stopping the cycle of ACEs by changing the parenting experience
and so much more!
Welcome to The Healing Place Podcast! I am your host, Teri Wellbrock. You can listen in on Pandora, iTunes, Blubrry, Spotify, Deezer, Google Podcasts, Amazon Music, Podbean, and more, or directly on my website at www.teriwellbrock.com/podcasts/. You can also watch our insightful interview on YouTube.
Bio:
"Rene has been married for 41 years, has three daughters and seven grandchildren. Several years ago she and her husband fostered their nephew and his sister on two different occasions. This experience inspired her to author the book Whose Best Interest.

She is an appointment member to the Missouri Children's Justice Task Force (CJA) and Critical Event Review Committee. In 2008, she began volunteer work throughout Missouri as a child advocate, speaking to students in classrooms all across the country. The responses from the students lead Rene to found the COPE24…Changing Our Parenting Experience organization.

The first project taken on by this organization was the COPE24 Parenting Skill Program. Rene originated this program based upon the inspiration provided by the more than 23,000 students to which she has spoken.

The second project is the documentary video titled The Life Sentence. This documents the stories of four families whose infants were shaken or suffered severe head trauma and survived. These families give testimony of the event and allow the viewer to see the quality of life for these children several years later. This video is extremely emotional and not something our youth will soon forget.

Currently, she is working on a new series of documentary videos. The series will be titled Elements. Each video in this series will subject a common issue often seen in families where abuse/neglect has been identified like immaturity, drugs/alcohol, domestic violence, absent fathers, mental health, poverty, child endangerment, etc. In December 2015 COPE24 released the first video in this series titled "Life-Line". This video focusses on the element of immaturity and what an unplanned conception means when there is no support system. January 2017 the second video in this series "Parenting Under The Influence" was released. The topic of this video is drugs, alcohol and parenting. The third documentary in this series will be released in 2020. The topic will be ACEs and currently is unnamed.

Rene has also recently released her first children's book titled "Fosterhood". Introducing children to concepts like fostering and adoption, at a young age, may be helpful for the needs of child welfare as we move forward. The first book in this series was released December 2015and is titled "Fosterhood…Let's Explore".

2018….Rene has co-authored the new bible study titled "Family: It's Complicated-A Bible Study of ACEs in Genesis."

2020….Released the 4th full length documentary on the topic of ACEs (Adverse Childhood Experiences) titled "How Many ACEs Are You Holding?"

Rene offers professional development workshops to school districts across the nation. She also provides presentations and key note speaking at universities, teacher conferences, advocacy events and churches.

Rene can be contacted by visiting her website at www.cope24.com, emailing her at renehowitt@cope24.com, or visiting her facebook and twitter pages. Rene would enjoy the opportunity to speak at any advocacy, parenting, or educational event."
Learn more about Rene and her mission at https://cope24.com/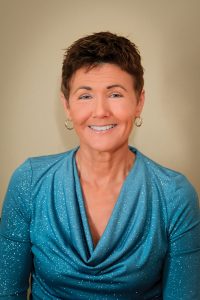 Peace,
Teri
Hope for Healing Newsletter: https://us18.campaign-archive.com/?u=8265f971343b0f411b871aba1&id=1352bd63df
Book Launch Team: https://www.facebook.com/groups/unicornshadows
Podcast: Play in new window | Download
Subscribe: Apple Podcasts | Google Podcasts | Spotify | iHeartRadio | RSS | More