Peggy Green – Life After Child Loss; Surviving Suicide Loss; Grief Survival Program; Plus a Message from the Other Side
Peggy Green – Life After Child Loss; Surviving Suicide Loss; Grief Survival Program; Plus a Message from the Other Side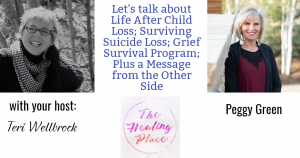 Attention Special Message: Please be sure to listen to the pre-episode message prior to listening to our conversation!
A powerful, insightful and hope-filled conversation with Peggy Green, Thee Grief Specialist, author, speaker, grief coach, and guide for suicide loss survivors. Please join us as we discuss:
her personal story of life after losing two of her four children, one to suicide
her philosophies for surviving suicide loss and supporting others in their loss
the Grief Survival Program
finding joy after child loss
a message from her son
and so much more!
Welcome to The Healing Place Podcast! I am your host, Teri Wellbrock. You can listen in on Pandora, iTunes, Blubrry, Spotify, Deezer, Google Podcasts, Amazon Music, Podbean, and more, or directly on my website at www.teriwellbrock.com/podcasts/. You can also watch our insightful interview on YouTube.
Bio:
"Peggy Green is a mother, teacher, survivor, speaker, and leader who has overcome the odds. She is an Amazon bestselling author who has experienced the loss of not just one child but two. Her first child by accident in 1991 and her son by suicide in 2018. Her mission is to make an impact and help others grieving the loss of their child. Her book, , Life After Child Loss: The Mother's Survival Guide to Cope and Find Joy alongside her Thursday Thought's publication, has helped hundreds of readers in their grief journey.

She has experienced significant challenges in her life resulting in the creation and development of her Grief Survival Program. For the past 13 years she has been coaching in fitness, nutrition, and grief. She could be found on the training floor challenging clients to do better, in a consultation teaching the correlation between health and nutrition or showing compassion to a mother who lost a child.

Her passion is to share her Grief Survival Program where she helps grieving moms move through their loss. She shows how she overcame her own challenges and offers realistic and applicable practices that helps others to heal. She is inspiring and a true example that there is hope. Peggy has donated blood almost 100 times, because it is the right thing to do.

Although she is a Colorado native, she does not ski. She prefers warm weather activities such as hiking, biking, camping, and playing pickleball. She lives in Highlands Ranch, close to her two grown girls and grandchildren.

Peggy Green holds bachelor's degrees in Business Marketing and Exercise Science.

CONTACT PEGGY https://www.theegriefspecialist.com/ https://www.facebook.com/TheeGriefSpecialist"
Teri
Hope for Healing Newsletter: https://us18.campaign-archive.com/?u=8265f971343b0f411b871aba1&id=1352bd63df
Book Launch Team: https://www.facebook.com/groups/unicornshadows
Podcast: Play in new window | Download
Subscribe: Apple Podcasts | Google Podcasts | Spotify | iHeartRadio | RSS | More