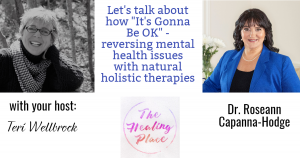 I am so very grateful for the opportunity to engage in a laughter-filled yet empowering conversation with Dr. Roseann Capanna-Hodge, a mental health trailblazer, founder of The Global Institute of Children's Mental Health, and media expert. Please join us as we discuss:
Dr. Roseann's philosophies on holistic healing
her role as a psychologist and mental health trailblazer
what she means by "reduce and reverse"
the impact of the pandemic on kids' mental health
her recently released It's Gonna Be OK: Proven Ways to Reverse Your Child's Mental Health book
"Changing the way we view and treat children's mental health"
and so much more!
Welcome to The Healing Place Podcast! I am your host, Teri Wellbrock. You can listen in on Pandora, iTunes, Blubrry, Spotify, iHeartRadio, Stitcher, Deezer, Google Podcasts, Amazon Music, and more, or directly on my website at www.teriwellbrock.com/podcasts/. You can also watch our insightful interview on YouTube.
Bio:
"Dr. Roseann is a mental health trailblazer, founder of The Global Institute of Children's Mental Health and Dr. Roseann, LLC who is, "Changing the way we view and treat children's mental health". FORBES magazine called her, "A thought leader in children's mental health". Her work has helped thousands reverse the most challenging conditions, such as ADHD, anxiety, mood, autism, learning disability, Lyme, and PANS/PANDAS using PROVEN holistic therapies such as neurofeedback, biofeedback, and psychotherapy. She is the author of the first ever book on teletherapy activities for child and adolescent therapists, "Teletherapy Toolkit™" and It's Gonna be OK!™ book. She works with kids and families with remote neurofeedback and her Get Unstuck Program™ and Raising Successful Kids Community, which are resources for parents to improve their child's symptoms and develop grit and resilience. She is often featured on dozens of media outlets: Fox, CBS, NBC, PARENTS, and New York Times."
Book: (see description on last page)
It's Gonna Be OK™: Proven Ways to Reverse Your Child's Mental Health 
Summit:
The Get Unstuck Summit
Teri
Hope for Healing Newsletter: https://us18.campaign-archive.com/?u=8265f971343b0f411b871aba1&id=1352bd63df
Book Launch Team: https://www.facebook.com/groups/unicornshadows
Podcast: Play in new window | Download
Subscribe: Apple Podcasts | Google Podcasts | Spotify | iHeartRadio | RSS | More