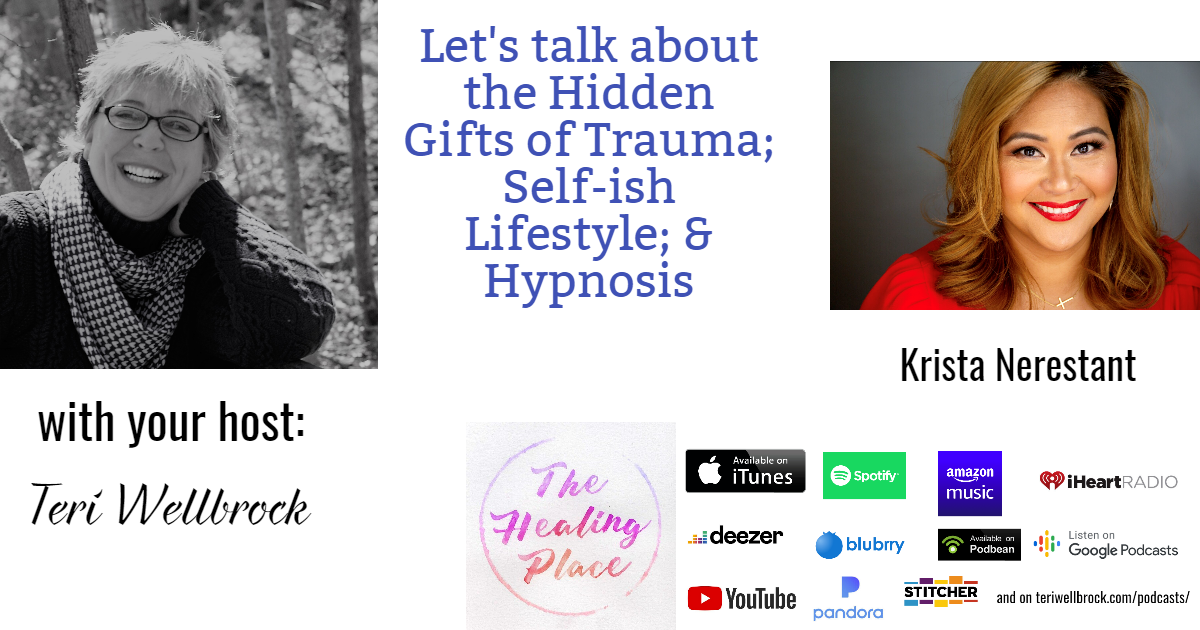 Krista Nerestant – The Hidden Gifts of Trauma; Self-ish Lifestyle; & Hypnosis
I enjoyed this beautiful conversation as I learned much from Krista Nerestant, founder of Self-ish Lifestyle, wellness expert, author, medium, life coach, and hypnotist. Please join us as we discuss:
Krista's insights on the hidden gifts of trauma
her philosophies on healing modalities
what she means by "self-ish lifestyle"
her role as a hypnotist
and so much more!
Welcome to The Healing Place Podcast! I am your host, Teri Wellbrock. You can listen in on Pandora, iTunes, Blubrry, Spotify, iHeartRadio, Stitcher, Deezer, Google Podcasts, Amazon Music, and more, or directly on my website at www.teriwellbrock.com/podcasts/. You can also catch soundbites of our insightful interview on YouTube.
Bio:
"Krista Nerestant is a practicing life coach, educated and certified in Neuro Linguistic Programming and The Satir Method of Transformational Systemic Therapy to heal family dynamics and trauma, and an advocate for women and children. She hosts a podcast, Self-Care Tuesdays, that is dedicated to encouraging, empowering and elevating the journey of self-care. She's teaching women it's OK to be "Self-ish"!  

Neuro-linguistic programming (NLP) is a psychological approach that involves analyzing strategies used by successful individuals and applying them to reach a personal goal. It relates thoughts, language, and patterns of behavior learned through experience to specific outcomes. 

Proponents of NLP assume all human action is positive. Therefore, if a plan fails or the unexpected happens, the experience is neither good nor bad—it simply presents more useful information.

Satir's Transformational Systemic Therapy Model (STST) is unique in encompassing both the intrapsychic and interactive components of therapy. Much therapy of the past has been focused only on clients' behaviour, cognition or affect. The Satir Model is focused on the whole human being, tapping into their internal resources and universal yearnings to facilitate transformational change within their personal, family, and social systems. The Satir Model process facilitates development of increased levels of competence and congruence in the therapist.

STST processes are supported by therapeutic and neurobiological research. Evidence-based research supports experiential, systemic, positively directional and change focused therapeutic processes to bring about neurological changes in clients. STST emphasizes that therapists create and provide the conditions for attachment, hope, positive possibilities and safety in order to facilitate change."
** Visit Krista's website: https://www.self-ishlifestyle.com/
Peace,
Teri
Hope for Healing Newsletter: https://us18.campaign-archive.com/?u=8265f971343b0f411b871aba1&id=1352bd63df
Book Launch Team: https://www.facebook.com/groups/unicornshadows
Podcast: Play in new window | Download
Subscribe: Apple Podcasts | Google Podcasts | Spotify | iHeartRadio | RSS | More