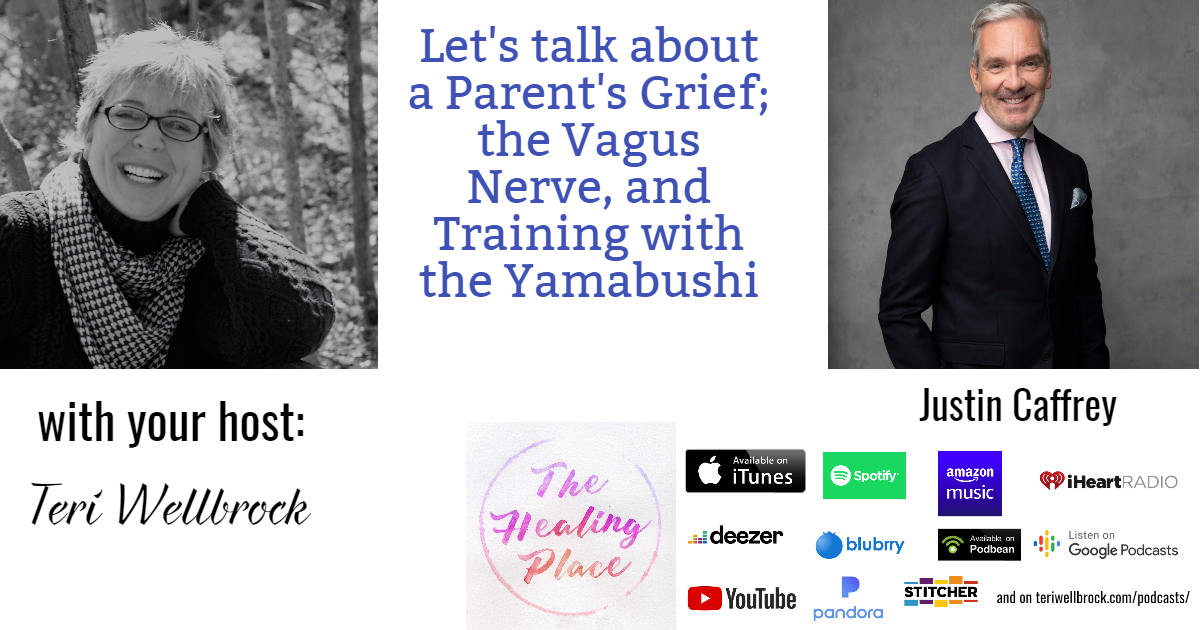 Justin Caffrey – a Parent's Grief; the Vagus Nerve, and Training with the Yamabushi
Justin Caffrey – a Parent's Grief; the Vagus Nerve, and Training with the Yamabushi
I am so very grateful for the opportunity to learn from Justin Caffrey's deep wisdom. Justin is a recognized thought leader in mindfulness, resilience, and wellbeing. Please join us as we discuss:
Justin's insights on the Vagus nerve
his philosophies on grief and the impact of the trauma of losing a child
who are the Yamabushi of Japan and how did he train with them
his transition into studying Buddhist meditation practices
and so much more!
Welcome to The Healing Place Podcast! I am your host, Teri Wellbrock. You can listen in on Pandora, iTunes, Blubrry, Spotify, iHeartRadio, Stitcher, Deezer, Google Podcasts, Amazon Music, and more, or directly on my website at www.teriwellbrock.com/podcasts/. You can also catch soundbites of our insightful interview on YouTube.
Bio:
"A proven multi-business entrepreneur in differing sectors and countries, who built and sold regulated companies with seven figure exits.

A Certified Investment Fund / Hedge Fund Director and Private Equity Professional. He also holds a Masters in Mindfulness-Based Interventions from the prestigious University College Dublin.

All Ireland All Star Thought Leader in Personal Development in 2019 & 2020.

After losing his son 10 years ago he turned to Eastern Psychology | Philosophy | Neuroscience. Justin has become a recognised expert on the Vagus Nerve, the autonomic nervous system, and how Eastern traditions have recognised the importance of these key physiological repossess for thousands of years.

His research is a rich combination of Western neuroscience, Eastern philosophy, mindfulness and his own hard earned life experiences.

Justin swims in cold water all year round, fasts daily for 19-hours, eats a plant based diet and meditates each morning at 5am. He is one of only a handful of Westerners to have completed the gruelling Master Training with the Yamabushi in the remote mountains of Shonai, in Japan.

When you leave the extremes of private equity and hedge-funds for Buddhism, you can expect some exciting outcomes.

Having built routine and structure within his own lifestyle, Justin provides advice and guidance on sleep, intermittent fasting, cold water, the Vagus nerve, meditation practice and mind/body connection.

Justin's YouTube Channel on the Vagus Nerve, PTSD and recovery, has been watched by over 175,000 people globally. His channel receives 3,000 views a day.  He is a regular contributor to media, TV and podcasts."
** Visit Justin's website: https://www.justincaffrey.com/
Peace,
Teri
Hope for Healing Newsletter: https://us18.campaign-archive.com/?u=8265f971343b0f411b871aba1&id=1352bd63df
Book Launch Team: https://www.facebook.com/groups/unicornshadows
Podcast: Play in new window | Download
Subscribe: Apple Podcasts | Google Podcasts | Spotify | iHeartRadio | RSS | More