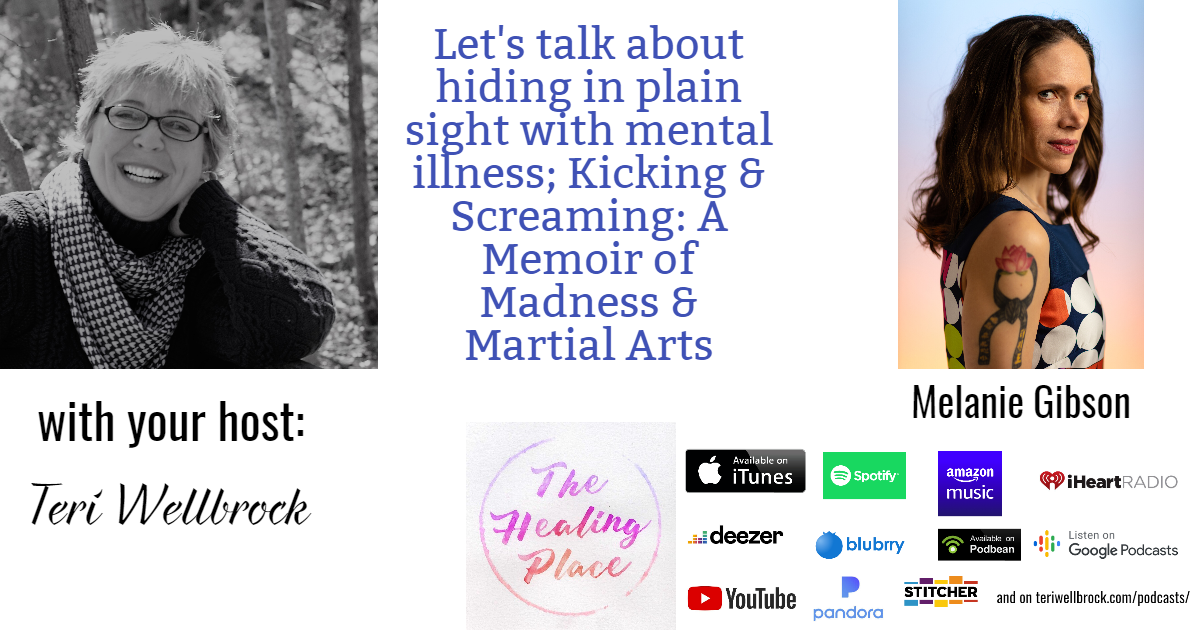 Melanie Gibson – Hiding in Plain Sight with Mental Illness
Melanie Gibson – Hiding in Plain Sight with Mental Illness
Join me for an insightful conversation with author and blogger, Melanie Gibson, as we discuss:
Melanie's insights on martial arts as a healing strategy
her philosophies on mental health stigmas
her book Kicking and Screaming: A Memoir of Madness and Martial Arts
her Little Black Belt blog
and so much more!
Welcome to The Healing Place Podcast! I am your host, Teri Wellbrock. You can listen in on Pandora, iTunes, Blubrry, Spotify, iHeartRadio, Stitcher, Deezer, Google Podcasts, Amazon Music, and more, or directly on my website at www.teriwellbrock.com/podcasts/. You can also catch soundbites of our insightful interview on YouTube.
Bio:
"Melanie Gibson began taekwondo training at age ten. At age twelve she stopped taekwondo to pursue other interests, and resumed training in her early thirties.

Although Melanie had academic and career achievements throughout her life, she struggled with mental illness and low self-esteem. After making some progress through psychiatric treatment and counseling, she knew she needed to do something more substantial to make lasting changes. Returning to taekwondo had always been in the back of her mind, and the timing was right. 

Taekwondo proved to be not only an opportunity to re-learn a beloved skill from her childhood, but also a means to build her self-esteem and confidence, and heal from old wounds. It brought a needed excitement and purpose to her life, which she shares in her blog Little Black Belt (http://littleblackbelt.com). While continuing to work at her full-time job, Melanie dedicated herself to taekwondo training and earned her first degree black belt in 2015. In 2017, she earned her second degree black belt. Although a pandemic and knee injury sidelined her training in 2020, Melanie plans to return to taekwondo and test for her third degree black belt. 

She has a bachelor's degree in English from Texas Woman's University, a Master of Library Science from the University of North Texas, and an MBA from the University of Texas at Arlington. Melanie has worked in the healthcare industry since 2004, with roles as a hospital librarian, corporate trainer, and learning designer."
** Visit Melanie's website: https://littleblackbelt.com/
Peace,
Teri
Hope for Healing Newsletter: https://us18.campaign-archive.com/?u=8265f971343b0f411b871aba1&id=1352bd63df
Book Launch Team: https://www.facebook.com/groups/unicornshadows
Podcast: Play in new window | Download
Subscribe: Apple Podcasts | Google Podcasts | Spotify | iHeartRadio | RSS | More