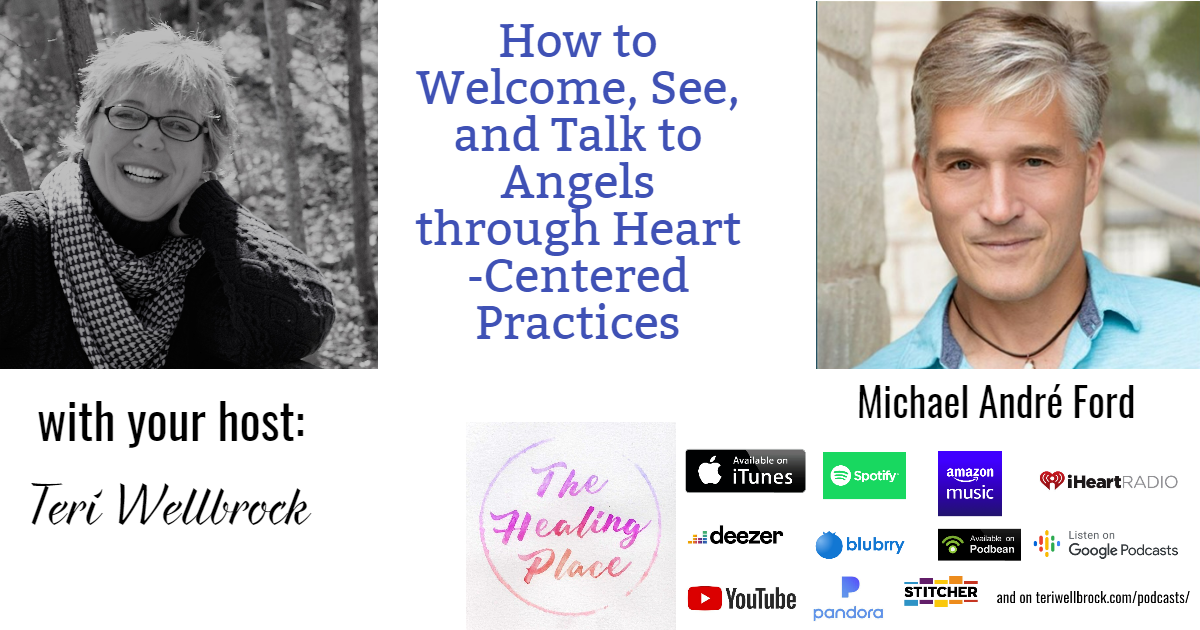 Michael André Ford – How to Welcome, See, and Talk to Angels through Heart-Centered Practices
A powerful and heart-felt conversation with angel intuitive, Michael André Ford. Please join us as we discuss:
Michael's insights on connecting with angels – seeing, conversing, feeling, signs, and more
his personal stories of engaging with and learning from angels
his work as an angel intuitive
his philosophies on moving from ego-centered thinking to heart-centered opening up
and so much more!
---
→ A fun BONUS announcement from Michael!
Omega Institute announced his 3-day "Meeting Angels" event on July 29-31 (Friday thru Sunday). Info at:
www.eOmega.org/July
Elizabeth Gilbert, Brené Brown and many other well-known names are there that summer.
---
Welcome to The Healing Place Podcast! I am your host, Teri Wellbrock. You can listen in on Pandora, iTunes, Blubrry, Spotify, iHeartRadio, Stitcher, Deezer, Google Podcasts, Amazon Music, and more, or directly on my website at www.teriwellbrock.com/podcasts/. You can also catch soundbites of our insightful interview on YouTube.
Bio:
"Michael André Ford is an Angel Intuitive in San Antonio, TX.

​His unique ability to pull back the Veil means people get to meet, hear & see Angels, spirit guides, and other well-known compassionate figures.

​Michael connects you to yourself and the Universe without a barrier. His gift has been described as unimaginable work that no man does yet.

As Michael moves energy, you transition out of thinking and into your heart where All is possible. There, you hear, feel and see the beautiful beings that are here to support you on your present journey.

There is healing as well. Allow, Ask & Receive. There are no limits.

​Michael believes that the greatest form of human compassion is to empower people to listen for their own answers to their life questions.

When you are ready to meet Angels, book your appointment with Michael. Sessions work very well via Zoom."
Peace,
Teri
Hope for Healing Newsletter: https://us18.campaign-archive.com/?u=8265f971343b0f411b871aba1&id=1352bd63df
Book Launch Team: https://www.facebook.com/groups/unicornshadows
AMAZON AFFILIATE
Teri Wellbrock and Unicorn Shadows are a participant in the Amazon Services LLC Associates Program, an affiliate advertising program designed to provide a means for sites to earn advertising fees by advertising and linking to Amazon.com. In other words, I make commission off of purchases made using any affiliate links on my site.
Podcast: Play in new window | Download
Subscribe: Apple Podcasts | Google Podcasts | Spotify | iHeartRadio | RSS | More