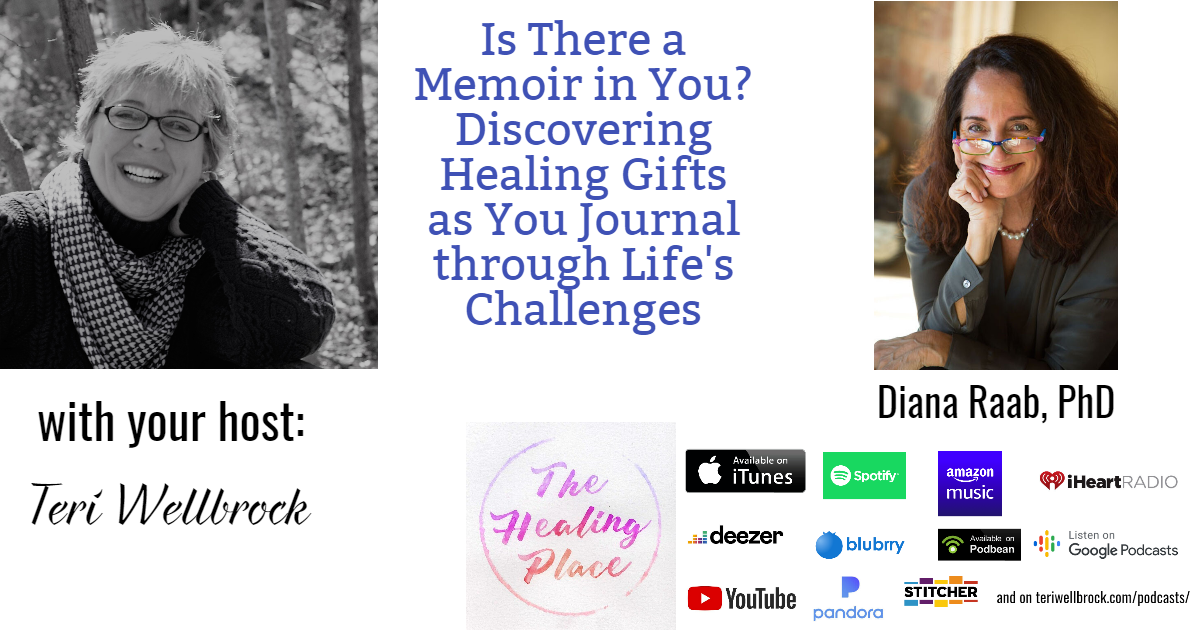 Diana Raab, PhD – Is There a Memoir in You? Discovering Healing Gifts as You Journal through Life's Challenges
Diana Raab, PhD – Is There a Memoir in You? Discovering Healing Gifts as You Journal through Life's Challenges
So very grateful the opportunity to sit down with Diana Raab, PhD, memoirist, poet, and thought provoker, teacher, research psychologist, and the author of ten books and over 1000 articles. Please join us as we discuss:
Dr. Diana's insights on journaling as a way to process life's challenges
her personal journey through the trauma of her grandmother's death by suicide into writing her memoir and books of poetry
her work as a thought provoker and writing guide
her philosophies on the transformative power of writing
and so much more!
Welcome to The Healing Place Podcast! I am your host, Teri Wellbrock. You can listen in on Pandora, iTunes, Blubrry, Spotify, iHeartRadio, Stitcher, Deezer, Google Podcasts, Amazon Music, and more, or directly on my website at www.teriwellbrock.com/podcasts/. You can also catch soundbites of our insightful interview on YouTube.
Bio:
"Diana Raab, MFA, PhD, is a memoirist, poet, blogger, speaker, and award-winning author of nine books. Her work has been published and anthologized in over
1000 publications. She frequently speaks on writing for healing and transformation.

Raab blogs for Psychology Today, The Wisdom Daily, The Good Men Project, Thrive Global, and is a guest blogger for many others. She's editor of two
anthologies: Writers and Their Notebooks and Writers on the Edge; two memoirs: Regina's Closet: Finding My Grandmother's Secret Journal and Healing with
Words: A Writer's Cancer Journey, and four poetry collections, including Lust. Her latest books are Writing for Bliss: A Seven-Step Program for Telling Your
Story and Transforming Your Life and Writing for Bliss: A Companion Book. Her latest creative endeavor are Conversation Cards for Meaningful Conversation,
available on Amazon."
Peace,
Teri
Hope for Healing Newsletter: https://us18.campaign-archive.com/?u=8265f971343b0f411b871aba1&id=1352bd63df
Book Launch Team: https://www.facebook.com/groups/unicornshadows
AMAZON AFFILIATE
Teri Wellbrock and Unicorn Shadows are a participant in the Amazon Services LLC Associates Program, an affiliate advertising program designed to provide a means for sites to earn advertising fees by advertising and linking to Amazon.com. In other words, I make commission off of purchases made using any affiliate links on my site.
Podcast: Play in new window | Download
Subscribe: Apple Podcasts | Google Podcasts | Spotify | iHeartRadio | RSS | More