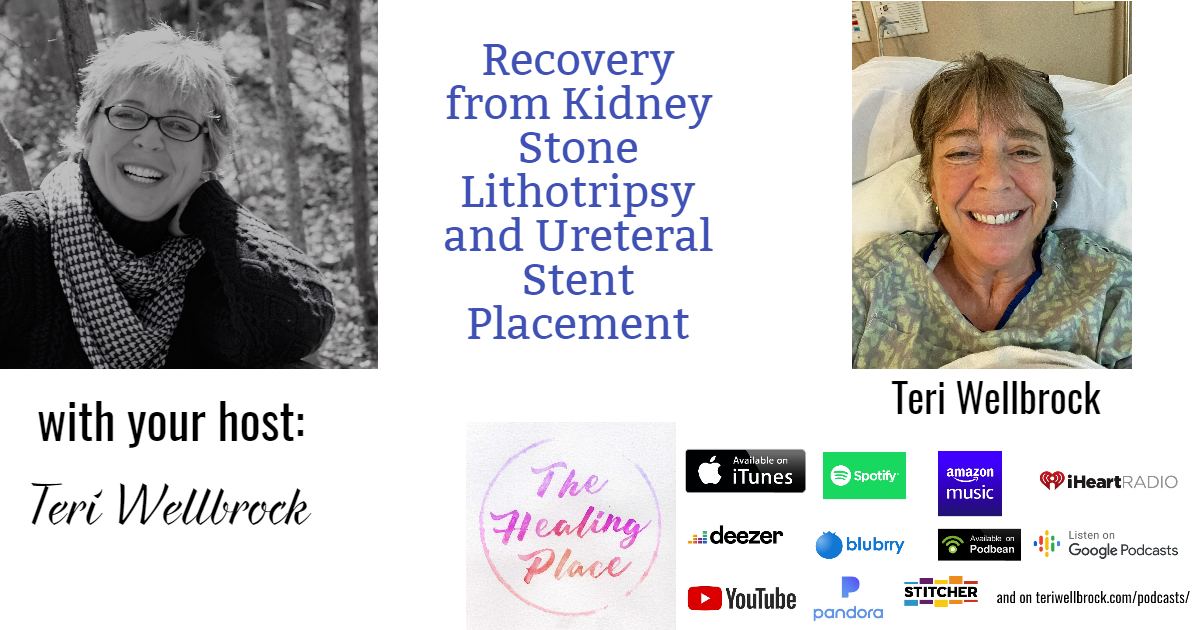 Teri Wellbrock – Recovery from Kidney Stone Lithotripsy and Ureteral Stent Placement
Hi all . . . Teri Wellbrock here just to wish you a blessed week! I had emergency kidney stone surgery on Sunday and am home resting. I will have the ureter stent removed this coming Monday.
My social media post about it prior to surgery:
At this point it's laughable. I'm trying to keep a sense of humor about it all.
Saturday August 20th, after grilling our family a delicious dinner, I started experiencing severe abdominal pain. We chalked it up to nerves over upcoming solo traveling. Within a few hours I was in such excruciating pain that I was nauseous, shaking with chills, and sobbing. My family convinced me to go to the ER around 11:30 PM as we thought I might be having a kidney stone issue as my left back pain was unbearable.
Hilton Head Hospital had a CT scan done and the tech said to me, "Can you come back here? I want you to see this." As she pointed to my kidneys, I noticed the large blob on my left kidney image. She went on, "That's a kidney stone. And it's huge. You are one strong, lady."
The doctor then drew me a picture and explained a kidney stone of size 5 is the largest passable stone. Mine is a 13! They gave me a pain cocktail and I passed out.
Soon after they strapped me to a gurney, stuck me in an ambulance and shipped me off to Coastal Carolina hospital. I'm now here waiting to go into surgery. It's non-invasive. They'll be conducting Lithotripsy which treats kidney stones by sending focused ultrasonic energy or shock waves directly to the stone. Then possibly putting in a stent to allow passage of the remnants.
Goodness! I'm ready to get off this crazy health crisis ride!"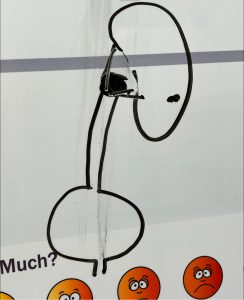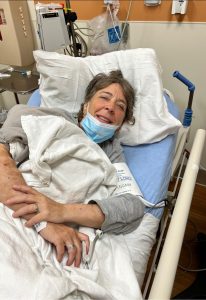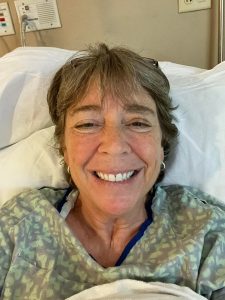 Photos: ER doctor's drawing of my kidney stone blocking my ureter, before surgery, after surgery
Welcome to The Healing Place Podcast! I am your host, Teri Wellbrock. You can listen in on Pandora, iTunes, Blubrry, Spotify, iHeartRadio, Stitcher, Deezer, Google Podcasts, Amazon Music, and more, or directly on my website at www.teriwellbrock.com/podcasts/. You can also catch soundbites of our insightful interview on YouTube.
Peace,
Teri
Hope for Healing Newsletter: https://us18.campaign-archive.com/?u=8265f971343b0f411b871aba1&id=1352bd63df
Book Launch Team: https://www.facebook.com/groups/unicornshadows
AMAZON AFFILIATE
Teri Wellbrock and Unicorn Shadows are a participant in the Amazon Services LLC Associates Program, an affiliate advertising program designed to provide a means for sites to earn advertising fees by advertising and linking to Amazon.com. In other words, I make commission off of purchases made using any affiliate links on my site.
Podcast: Play in new window | Download
Subscribe: Apple Podcasts | Google Podcasts | Spotify | iHeartRadio | RSS | More