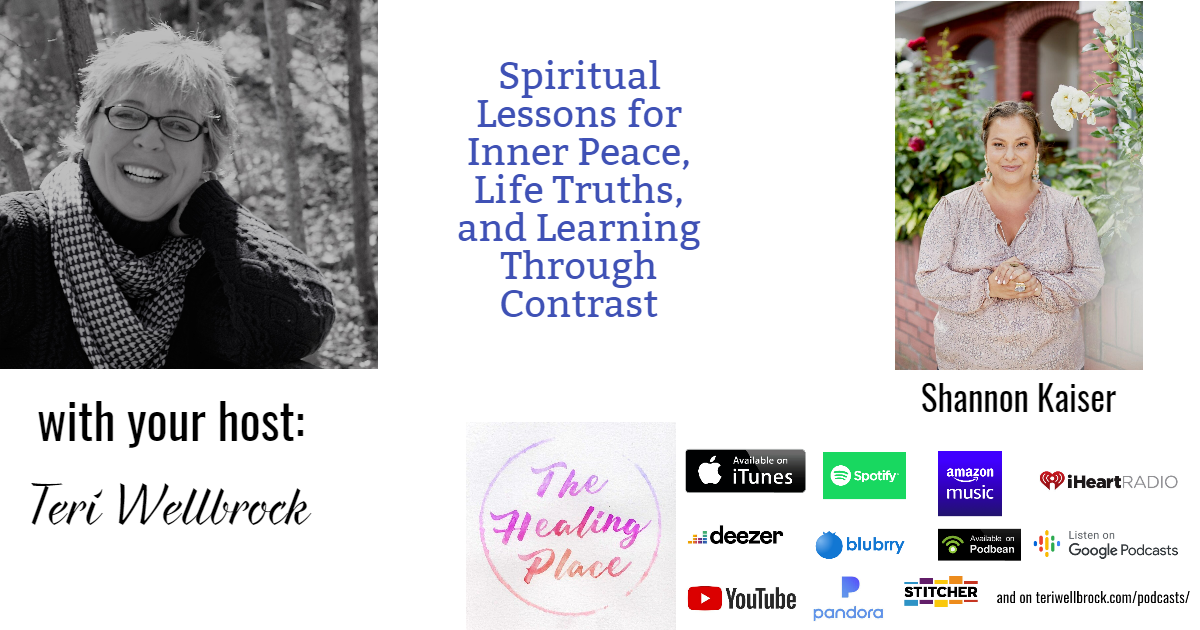 Shannon Kaiser – Spiritual Lessons for Inner Peace, Life Truths, and Learning Through Contrast
Shannon Kaiser – Spiritual Lessons for Inner Peace, Life Truths, and Learning Through Contrast
I, personally, learned so many lessons from this beautiful conversation with Shannon Kaiser, best-selling author, global retreat leader, coach, mentor, and "Fall in love with yourself and life guide". Please join us as we discuss:
Shannon's personal journey to inner peace
her insights on happiness
her philosophies on life truths and learning through contrast
her most recent book, Return to You: 11 Spiritual Lessons for Unshakable Inner Peace
and so much more!
Welcome to The Healing Place Podcast! I am your host, Teri Wellbrock. You can listen in on Pandora, iTunes, Blubrry, Spotify, iHeartRadio, Stitcher, Deezer, Google Podcasts, Amazon Music, and more, or directly on my website at www.teriwellbrock.com/podcasts/. You can also catch soundbites of our insightful interview on YouTube.
Bio:
"Shannon Kaiser is the bestselling author of five books on the psychology of happiness and fulfillment, including the #1 bestseller, The Self-Love Experiment, and Adventures for Your Soul, Find Your Happy and Find Your Happy Daily Mantras, Joy Seeker and newest book Return to You: 11 Spiritual Lessons for Unshakable Inner Peace. She's been named "Top 100 Women to Watch in Wellness," by MindBodyGreen and "One of the freshest voices in mental health and wellness," by Chicken Soup for the Woman's Soul.

Shannon's the founder of Playwiththeworld.com, named "Top 75 Personal Development Websites," and "Top 100 Self Help Blogs" by the Institute for the Psychology of Eating.

Shannon Kaiser's work as an international empowerment coach, retreat leader, inspirational author and public speaker has reached hundreds of thousands and changed countless lives, inspiring and empowering people to believe and trust in themselves so they can live their highest potential.

Her work has been recognized in media outlets across the globe such as HuffPost Live, Health Magazine, Australian Vogue, Women's Health, Spirituality & Health and Entrepreneur magazine."

Website: https://www.playwiththeworld.com/
Peace,
Teri
Hope for Healing Newsletter: https://us18.campaign-archive.com/?u=8265f971343b0f411b871aba1&id=1352bd63df
Book Launch Team: https://www.facebook.com/groups/unicornshadows
AMAZON AFFILIATE
Teri Wellbrock and Unicorn Shadows are a participant in the Amazon Services LLC Associates Program, an affiliate advertising program designed to provide a means for sites to earn advertising fees by advertising and linking to Amazon.com. In other words, I make commission off of purchases made using any affiliate links on my site.
Podcast: Play in new window | Download
Subscribe: Apple Podcasts | Google Podcasts | Spotify | iHeartRadio | RSS | More