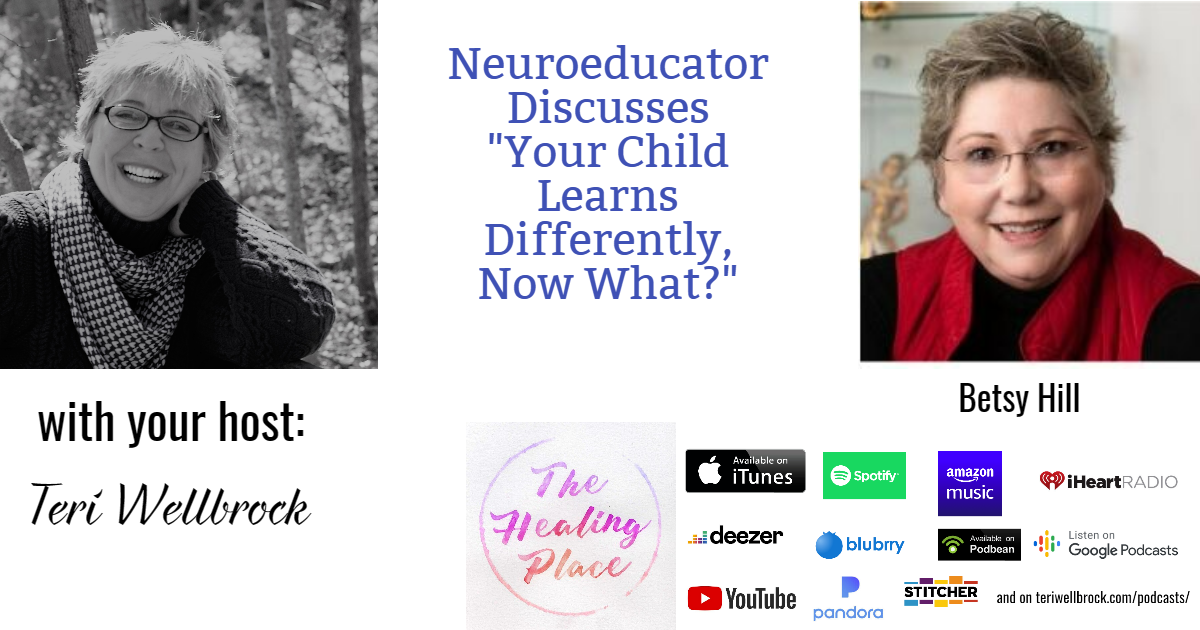 Betsy Hill – Neuroeducator Discusses "Your Child Learns Differently, Now What?"
Betsy Hill – Neuroeducator Discusses "Your Child Learns Differently, Now What?"
Happy to share with you my educational and enlightening conversation with Betsy Hill, neuroeducator, author, and mom of 3. Please join us as we discuss:
Betsy's role as a neuroeducator
her insights on education and how children learn differently
her philosophies on brain plasticity and neuroscience
her book Your Child Learns Differently, Now What? The Truth for Parents: The 5-Step Plan
and so much more!
Welcome to The Healing Place Podcast! I am your host, Teri Wellbrock. You can listen in on Pandora, iTunes, Blubrry, Spotify, iHeartRadio, Stitcher, Deezer, Google Podcasts, Amazon Music, and more, or directly on my website at www.teriwellbrock.com/podcasts/. You can also catch our insightful interview on YouTube.
Bio:
BETSY HILL is the mother of three boys and an award-winning educator. She studied the neuroscience of learning with Dr. Patricia Wolfe and other pioneers in the field, coining the term neuroeducator. She is former chair of the board of trustees at Chicago State University and teaches strategic thinking at Lake Forest Graduate School of Management where she received a Contribution to Learning Excellence Award. She received a Nepris Trailblazer Award for sharing her knowledge, skills and passion for the neuroscience of learning in classrooms around the U.S. She holds a Master of Arts in Teaching and an MBA from Northwestern University.
Website: https://mybrainware.com/
Teri
Hope for Healing Newsletter: https://us18.campaign-archive.com/?u=8265f971343b0f411b871aba1&id=1352bd63df
Book Launch Team: https://www.facebook.com/groups/unicornshadows
AMAZON AFFILIATE
Teri Wellbrock and Unicorn Shadows are a participant in the Amazon Services LLC Associates Program, an affiliate advertising program designed to provide a means for sites to earn advertising fees by advertising and linking to Amazon.com. In other words, I make commission off of purchases made using any affiliate links on my site.
Podcast: Play in new window | Download
Subscribe: Apple Podcasts | Google Podcasts | Spotify | iHeartRadio | RSS | More