Christine Marie – Breaking Free; Creative Healing; Supporting Abuse Survivors; Bonus: Poetry Reading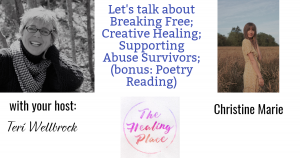 Such a beautiful and healing conversation with creative healer, poet, photographer, and author of Breaking Free: A Self-Healing Journey. Please join us as we discuss:
her philosophies as an artistic/creative healer
the inspiration for her book Breaking Free: A Self-Healing Journey
her photography and self-discovery journey to India and Nepal
her mission to support abuse survivors
a bonus gift of a poetry reading
and so much more!
Welcome to The Healing Place Podcast! I am your host, Teri Wellbrock. You can listen in on Pandora, iTunes, Blubrry, Spotify, Deezer, Google Podcasts, Amazon Music, Podbean, and more, or directly on my website at www.teriwellbrock.com/podcasts/. You can also watch our insightful interview on YouTube.
Bio:
"christine marie is an intuitive empath and gatherer of divine medicine to heal herself and the collective.

her creative self-expression and spiritual connection are gateways back to her true self and her inner knowing.

she is an advocate for positive change around de-stigmatizing mental health. domestic violence. and human disconnection. as she urges the need for more self-love. self-reflection. and spiritual connection in order to create a more conscious, loving human evolution."

Links:

IG: christinemarieheals
Learn more about Christine and her mission at: https://www.christinemarieheals.com/
Peace,
Teri
Hope for Healing Newsletter: https://us18.campaign-archive.com/?u=8265f971343b0f411b871aba1&id=1352bd63df
Book Launch Team: https://www.facebook.com/groups/unicornshadows
Podcast: Play in new window | Download
Subscribe: Apple Podcasts | Google Podcasts | Spotify | iHeartRadio | RSS | More