Andrea Hummel – Improv Workshops, Mediation, Trauma Recovery, & Resolving Miscommunication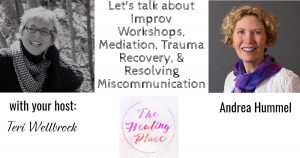 I feel honored to have had the priviledge of sitting down with Andrea Hummel as she shares her passion for mediation, improv workshops, trauma recovery, and resolving miscommunications. Please join us as we discuss:
the role of Improv for Peace in conflict resolution
using mediation tools for processing unresolved trauma
self-care
resolving miscommunication
and more!
Welcome to The Healing Place Podcast! I am your host, Teri Wellbrock. You can listen in on Pandora, iTunes, Blubrry, Spotify, Deezer, Google Podcasts, Podbean, and more, or directly on my website at www.teriwellbrock.com/podcasts/. You can also watch our insightful interview on YouTube.
Bio:
"Andrea C Hummel is trained in multicultural diversity, mediation and trauma recovery. She holds a Masters in applied anthropology from American University, with post-graduate studies in intercultural conflict mediation.  She's trained in ShadowWork and Multi-Track Diplomacy, and holds a theory certification in TSM psychodrama for post-traumatic growth.

In 1991 Andrea founded a consulting firm specializing in cultural diversity and human relations consulting; and was an adjunct faculty member at University of Florida and Manatee Community College.  Initially her focus was on preventing conflict; now it's on resolving it. She's the developer of the cutting-edge I4P (Improv for Peace) method for helping individuals and communities increase empathy, decrease miscommunication and create alternate endings to historical conflict.  No stranger to staying focused during crisis, she was in the Middle East during the 1990 Kuwaiti oil crisis, Guatemala during the 1995 refugee persecutions, and Greece during the 2015 refugee crisis.

Co-author of the Amazon #1 best-seller Pathways to Vibrant Health, she's working on a self-help book for trauma recovery with Dr Kate Hudgins. She was recently honored with the 2020 Innovators Award from ASGPP, for bringing psychodrama and action methods to a wider audience.

Past clients include: Micosukee Tribe of Indians, Recover! Charlottesville, US Navy STRICOM, AmeriCorps, Equifax, Children's Board of Hillsborough Co., City of Richmond, City of Charlottesville, Eckerd College and University of Tampa."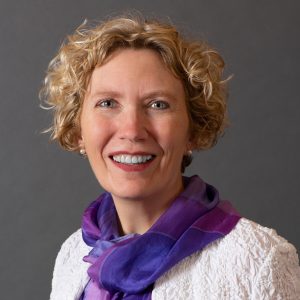 Learn more about Andrea and her mission at:
https://www.facebook.com/pg/improvforpeace
https://www.facebook.com/andrea.hummelcorella

Peace to you all!
Teri
Hope for Healing Newsletter: https://mailchi.mp/741bdf08d718/hope-for-healing-newsletter-may-2019
Book Launch Team: https://www.facebook.com/groups/unicornshadows/
Podcast: Play in new window | Download
Subscribe: Apple Podcasts | Google Podcasts | Spotify | iHeartRadio | RSS | More