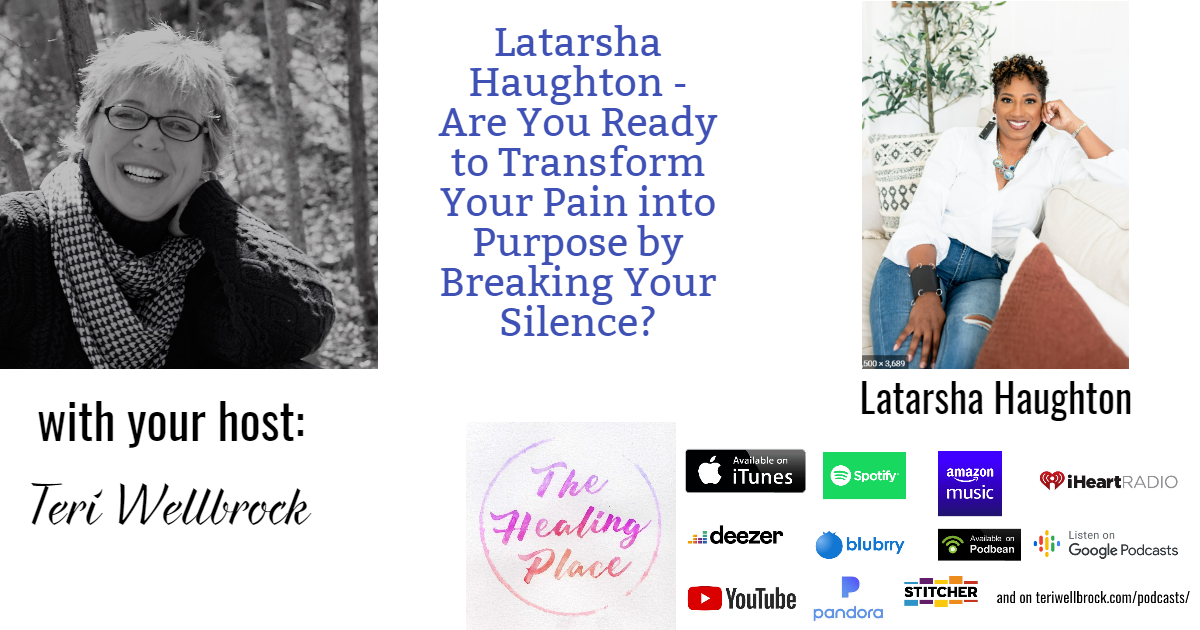 Latarsha Haughton – Are You Ready to Transform Your Pain into Purpose by Breaking Your Silence?
I feel blessed to have had the opportunity to learn from Latarsha Haughton, author, transformational life coach, and founder of Breaking the Silence Healing the Pain. Please join us as we discuss:
Latarsha's insights on breaking your silence in order to transform your pain
her book, Breaking the Silence
her personal story of triumph over trauma
her philosophies on faith as a healing catalyst
and so much more!
Welcome to The Healing Place Podcast! I am your host, Teri Wellbrock. You can listen in on Pandora, iTunes, Blubrry, Spotify, iHeartRadio, Stitcher, Deezer, Google Podcasts, Amazon Music, and more, or directly on my website at www.teriwellbrock.com/podcasts/. You can also catch soundbites of our insightful interview on YouTube.
Bio:
"HI, I'M LATARSHA HAUGHTON

Founder of Breaking the Silence Healing the Pain, I endured decades of trauma – including sexual and emotional abuse. With the help of God, prayer, and trauma-informed therapy after 30 years, I broke my silence. Today, I've transformed that pain into purpose, and now I create community for other survivors.

My entrepreneurial work includes this transformational life coaching practice, guiding people as they release wounds and embrace their power. I also serve as CEO of an assisted living community in Baltimore, We Care First Assisted Living, LLC.

I currently sit on the board of directors at Women and Warriors on Route to Higher Heights Ministries (W.O.R.T.H.H.) and Journey to Joy Ministries, where I've received training in prayer ministry and abuse recovery. I hold an award for "Choosing to Live" from The Standing Still Alliance, an organization focused on domestic violence advocacy and awareness.

I believe that remaining committed to studying biblical principles and rooting my ministries in the compassionate love of Christ is the key to my success as a transformational life coach. I currently reside in Tampa, Florida with my husband and my son."

 
Peace,
Teri
Hope for Healing Newsletter: https://us18.campaign-archive.com/?u=8265f971343b0f411b871aba1&id=1352bd63df
Book Launch Team: https://www.facebook.com/groups/unicornshadows
AMAZON AFFILIATE
Teri Wellbrock and Unicorn Shadows are a participant in the Amazon Services LLC Associates Program, an affiliate advertising program designed to provide a means for sites to earn advertising fees by advertising and linking to Amazon.com. In other words, I make commission off of purchases made using any affiliate links on my site.
Podcast: Play in new window | Download
Subscribe: Apple Podcasts | Google Podcasts | Spotify | iHeartRadio | RSS | More