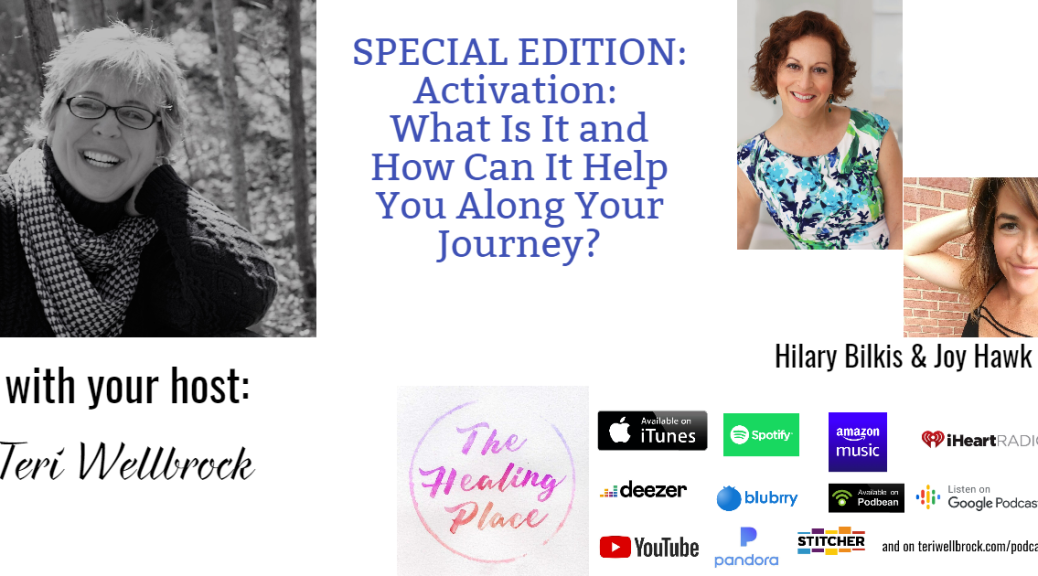 SPECIAL EDITION: FB LIVE with Hilary Bilkis & Joy Hawk – Activation: What Is It and How Can It Help You Along Your Journey?
Special Edition: FACEBOOK LIVE with Hilary Bilkis & Joy Hawk
I am so excited to share with you this FACEBOOK LIVE episode!
Today I welcome Hilary Bilkis of awakening4wellness.com and Joy Hawk of Joy Hawk Nutrition for an enlightening conversation on oxidative stress, activation vs. supplementation, free radicals, and mold toxicity.
Welcome to The Healing Place Podcast! I am your host, Teri Wellbrock. You can listen in on Pandora, iTunes, Blubrry, Spotify, iHeartRadio, Stitcher, Deezer, Google Podcasts, Amazon Music, and more, or directly on my website at www.teriwellbrock.com/podcasts/. You can also catch our insightful interview on YouTube.
Bios:
"Hilary D. Bilkis, LMT, MS  is a Gifted Healer and Intuitive, with 25 years experience. She is the owner of  Awakening Wellness, a light touch, hands on healing practice located in Savannah, GA. She works with you in a way that is gentle, compassionate and supportive.

Hilary combines light touch therapies with energy healing, emotional release work and spiritual guidance, customizing each session to her client's individual needs. Together we peel away the layers of stress, physical injury, and stored emotions, so you can release your pain, have more freedom of movement, feel calmer, clearer, centered, grounded and experience revitalized health, and more joy!

She has been in private practice since 2003.  Her training includes a variety of healing therapies including CranioSacral Therapy, Visceral Mobilization, SomatoEmotional Release and Energy work.

She received her degree in massage in 1997 from The Swedish Institute of Massage Therapy in New York City.  Hilary was trained in CranioSacral Therapy and SomatoEmotional Release through The Upledger Institute and has been a teaching assistant for their basic level class.  She has been trained in Visceral Mobilization through The Barral Institute.  She is licensed in New Jersey and awaiting her Georgia License.  Hilary maintains a membership in the American Massage Therapy Association (AMTA) and is a member of IAHP (International Alliance of Health Care Providers).

Prior to becoming a massage therapist, Hilary received a Bachelors Degree at SUNY Albany in 1990 and in 1994 earned a Masters Degree in Education at Queens College in New York.  She discovered that through various forms of body work and energy work, she could help and teach people, on a personal and rewarding level.

Hilary works with a range of people, from newborns to senior citizens.  The primary focus of her work is to allow her clients to reconnect and listen to the wisdom of their bodies so they can free themselves from physical and emotional pain. Together we peel away the layers of your pain, which may be manifesting as chronic pain, restricted mobility, fatigue, emotional fragility, depression, illness or "dis-ease.""
For those of you who don't know me, please allow me to introduce myself and share a bit of my story with you. I'm a Mom to three kids. My first two babies are a product of IVF. My 3rd child was conceived naturally and a VBA2C. I personally struggled with IBS, endometriosis, ADD, depression, anxiety and acne from a very young age. After struggling with infertility and gaining 85 lbs with my first pregnancy, I realized I needed some help around body image issues. It was there I realized health was my priority. When my eldest daughter was born at 6 lbs, we were told she possibly had "failure to thrive." Whatever that means. She was extremely shy and anxious, had severe eczema that landed her in the ER twice, had stomach aches, sleep issues and was sick often with strep, ear infections, croup and colds. It was because of her that I threw myself into learning everything I could about feeding children, nutrition, and health. I went to doctor after doctor and they all told me her issues were normal and she would grow out of it. Deep down, I knew there was something going on and was determined to find the answer. SHE IS MY WHY. I did everything "wrong" with her, but you cannot do better when you don't know better. She tells me she is my practice child. I enrolled in nutrition school. I went to ten day long seminars. I changed pediatricians. I experimented with her diet. When my second child was born, I did things a little differently. By the time my third was born, I had gone over the top into crunchy Mama mode. We removed almost all environmental toxins from the house. I made his baby formula from scratch and drove myself to adrenal fatigue with a nursing/pumping/homemade food making schedule because my daughter was also on GAPS. I made bone broth, granola bars from scratch, ground my own flour, made my own yogurt, dehydrated kale chips, sprouted grains and nuts, fermented things. In my effort to fix our health with food, I made myself sick. And I was missing out on so much of what I had fought for because I spent all my time in the kitchen. So now I do the best I can to straddle both worlds. Optimal nutrition is still a core value of mine and I'm passionate about teaching it to others who want to learn. However, I struggle with finding balance just like any other Mama of three…the balance of spending time with my kids and husband and still finding the "me" time I deeply need. The balance of eating a whole foods, gluten-free diet (I really should be egg and dairy free but that doesn't always work out) while being on the run with three kids. The balance of my own self care and caring for my kids. I share my journey here on my FB page. I will always share my truth with you. I will not judge your imperfections and ask that you not judge mine. I look forward to getting to know you should you choose to hang out here with me.

Links:
Peace,
Teri
Hope for Healing Newsletter: https://us18.campaign-archive.com/?u=8265f971343b0f411b871aba1&id=1352bd63df
Book Launch Team: https://www.facebook.com/groups/unicornshadows
AMAZON AFFILIATE
Teri Wellbrock and Unicorn Shadows are a participant in the Amazon Services LLC Associates Program, an affiliate advertising program designed to provide a means for sites to earn advertising fees by advertising and linking to Amazon.com. In other words, I make commission off of purchases made using any affiliate links on my site.
Podcast: Play in new window | Download
Subscribe: Apple Podcasts | Google Podcasts | Spotify | iHeartRadio | RSS | More