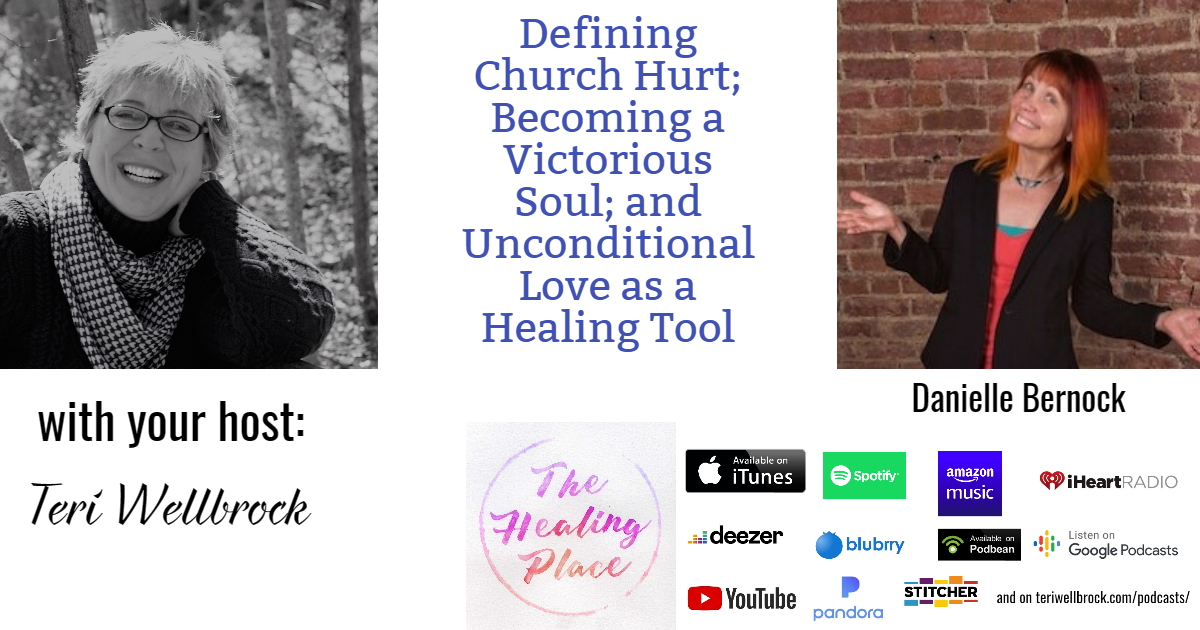 Danielle Bernock – Defining Church Hurt; Becoming a Victorious Soul; and Unconditional Love as a Healing Tool
I feel blessed to have had the opportunity to sit down with Danielle Bernock, childhood trauma survivor, international award-winning author, speaker, podcast host, and trauma-informed self-love coach. Please join us as we discuss:
Danielle's personal story of triumph over "church hurt"
her insights on unconditional love as a healing tool
the inspiration behind her books
her viral book quote: "Trauma is personal" and what that means for survivors and thrivers
and so much more!
Welcome to The Healing Place Podcast! I am your host, Teri Wellbrock. You can listen in on Pandora, iTunes, Blubrry, Spotify, iHeartRadio, Stitcher, Deezer, Google Podcasts, Amazon Music, and more, or directly on my website at www.teriwellbrock.com/podcasts/. You can also catch soundbites of our insightful interview on YouTube.
Bio:
"Danielle Bernock founded 4F Media (Faith, Family, Friends, Freedom) in 2014 to promote inner healing and personal freedom through the power of 'The LOVE that heals', using all forms of media, beginning with her first book Emerging With Wings.

The following quote from the book has gone viral:

"Trauma is personal. It does not disappear if it is not validated. When it is ignored or invalidated the silent screams continue internally heard only by the one held captive. When someone enters the pain and hears the screams healing can begin."
― Danielle Bernock, Emerging With Wings: A True Story of Lies, Pain, And The LOVE that Heals

Danielle is an international, award-winning author, speaker, podcast host, and trauma-informed self-love coach who helps men, women, and organizations EMERGE with clear vision of their value, TAKE ownership of their choices, and CHART a path to their promise, becoming Victorious Souls who Embrace The Change from survive to thrive through the power of the love of God.

She has authored 4 books, written for numerous online publications, and her stories have been published in two book anthologies. Her mantra is "love yourself from survive to thrive", and she's known as "that lady on the internet who loves you." A long time follower of Christ, Danielle lives with her husband in Michigan near her adult children and grandchildren.

For more information or to connect with Danielle https://www.daniellebernock.com/"
Peace,
Teri
Hope for Healing Newsletter: https://us18.campaign-archive.com/?u=8265f971343b0f411b871aba1&id=1352bd63df
Book Launch Team: https://www.facebook.com/groups/unicornshadows
AMAZON AFFILIATE
Teri Wellbrock and Unicorn Shadows are a participant in the Amazon Services LLC Associates Program, an affiliate advertising program designed to provide a means for sites to earn advertising fees by advertising and linking to Amazon.com. In other words, I make commission off of purchases made using any affiliate links on my site.
Podcast: Play in new window | Download
Subscribe: Apple Podcasts | Google Podcasts | Spotify | iHeartRadio | RSS | More