Brett Loftis – Science of Resilience & Building Trauma-Resilient Communities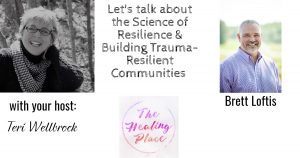 What a joy to sit down with Brett Loftis, CEO of Crossnore School and Children's Home, and Founder of The Center for Trauma Resilient Communities, as we engaged in a compelling conversation about:
Crossnore School and Children's Home
The Center for Trauma Resilient Communities
the impact of animals on healing
the science of resilience
the positive outcomes due to one caring adult
building trauma resilient organizations, communities, and cultures
supporting healers
adventure based counseling and other therapy modalities
mindfulness for children and helpers
Welcome to The Healing Place Podcast! I am your host, Teri Wellbrock. You can listen in on Pandora, iTunes, Blubrry, Spotify, Deezer, Google Podcasts, Podbean, and more, or directly on my website at www.teriwellbrock.com/podcasts/. You can also watch our insightful interview on YouTube.
Bio:
Brett A. Loftis, JD
Chief Executive Officer, Crossnore School & Children's Home
Founder and Faculty Member, Center for Trauma Resilient Communities
bloftis@crossnore.org

"Brett Loftis has a passion for protecting the most vulnerable children that is apparent from the moment he says hello. As the Chief Executive Officer of Crossnore School & Children's Home, Brett leads an organization that is dedicated to growing healthy futures for children and families. His experience working in a residential program for at-risk children and as a Guardian ad litem in South Carolina, a youth minister in Texas, and as an attorney and the Executive Director of the Council for Children's Rights in Charlotte, NC positioned him well to assume the executive role at Crossnore in 2013.

Under Brett's leadership, Crossnore effectively completed their Second Century campaign surpassing their goal to build the organization's endowment fund, built a new high school building at Williams Academy which opened in 2015, and constructed three new cottages on the Avery campus which opened in 2016. His executive leadership and strategic planning with the Board of Trustees led Crossnore to a successful merger with The Children's Home in Winston-Salem, NC to become Crossnore School & Children's Home in 2017. Services are expanding to underserved counties in western North Carolina through a satellite office opened in Hendersonville, NC in early 2018. He co-founded the Center for
Trauma Resilient Communities, a program of Crossnore School & Children's Home, in 2018.

Brett received his undergraduate degrees in Sociology and Political Science from Furman University. His passion for children eventually sent him to Wake Forest University School of Law to continue his career in child advocacy. He serves on numerous statewide committees and boards of directors, and he speaks statewide and nationally about children's issues. Brett has completed the Train the Trainer program with David McCorkle from the Sanctuary Institute and helps to lead a team of 42 Sanctuary trainers on Crossnore's campuses.

Brett and his family live on the Avery county campus of Crossnore School & Children's Home and in his free time, he loves to coach youth soccer and basketball. Brett's greatest love is his wife, Sally, and their three sons, Will, Elijah, and Lawson."
Learn more about Brett and his mission at:
Peace to you all!
Teri
Hope for Healing Newsletter: https://us18.campaign-archive.com/?u=8265f971343b0f411b871aba1&id=1352bd63df
Book Launch Team: https://www.facebook.com/groups/unicornshadows/
Podcast: Play in new window | Download
Subscribe: Apple Podcasts | Google Podcasts | Spotify | iHeartRadio | RSS | More