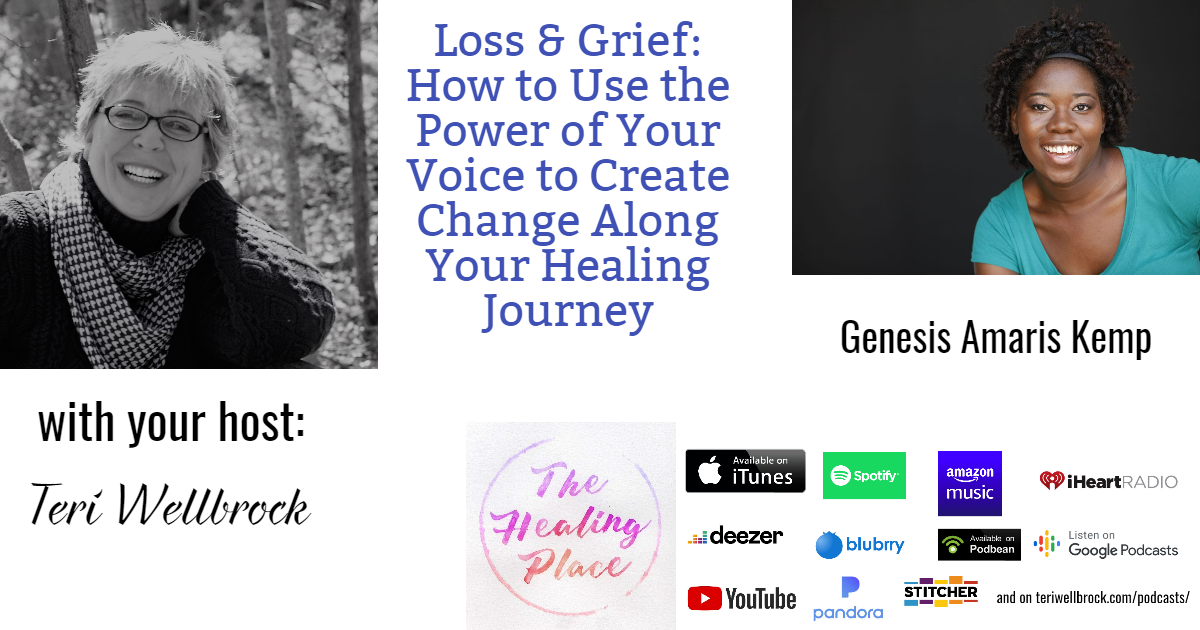 Genesis Amaris Kemp – Loss & Grief: How to Use the Power of Your Voice to Create Change Along Your Healing Journey
I felt embraced by wisdom during this enlightening conversation with Genesis Amaris Kemp, visionary life coach, motivational speaker, best-selling author, DEI advocate, and host of GEMS podcast. Please join us as we discuss:
Genesis' personal journey overwhelming loss and subsequent grief
her philosophies on using your voice to initiate deserved change
her book Chocolate Drop in Corporate America: From the pit to the palace
her insights on grief recovery and the power of your voice
and so much more!
Welcome to The Healing Place Podcast! I am your host, Teri Wellbrock. You can listen in on Pandora, iTunes, Blubrry, Spotify, iHeartRadio, Stitcher, Deezer, Google Podcasts, Amazon Music, and more, or directly on my website at www.teriwellbrock.com/podcasts/. You can also catch soundbites of our insightful interview on YouTube.
Bio:
"Genesis Amaris Kemp is a Creative Content Writer, Author, Self-Development Advocate, Visionary, Inclusion and Diversity enthusiast, Firecracker, and a force to be reckoned with.

She is a woman of color who said, "Enough is enough," and is now bolder than ever. She tried to remain silent, but that didn't work because no change occurred. Today, Genesis is readapting to the current times and making some life-changing decisions. She is stepping outside of her comfort zone by speaking up, challenging the status quo, and refusing to let limitations on her keep her down.

Genesis is a woman who will do great things that empower others to speak up for themselves. Yes, it may be challenging; yes, it may hurt. But in the long run, she desires to encourage others to help those who may not have a voice.

She is a trailblazer who wants others to live out their dreams, goals, and visions. If it takes her writing this book (Chocolate Drop in Corporate America: From The Pit To The Palace) to accomplish those tasks, then so be it. We all have been given an excellent purpose in life. It is up to us to walk it out and live victoriously!

Genesis has been featured on four dozen-plus podcasts, magazines and then decided to finally start her own podcast, GEMS, with Genesis Amaris Kemp."

LINKS:
https://www.facebook.com/genesisamaris.kemp.3

https://www.instagram.com/genesisamariskemp/

https://www.youtube.com/channel/UCa6LolDbQt37eSsotGUtSyA
Peace,
Teri
Hope for Healing Newsletter: https://us18.campaign-archive.com/?u=8265f971343b0f411b871aba1&id=1352bd63df
Book Launch Team: https://www.facebook.com/groups/unicornshadows
AMAZON AFFILIATE
Teri Wellbrock and Unicorn Shadows are a participant in the Amazon Services LLC Associates Program, an affiliate advertising program designed to provide a means for sites to earn advertising fees by advertising and linking to Amazon.com. In other words, I make commission off of purchases made using any affiliate links on my site.
Podcast: Play in new window | Download
Subscribe: Apple Podcasts | Google Podcasts | Spotify | iHeartRadio | RSS | More