Kelly McDaniel – Mother Hunger & Early Attachment Injuries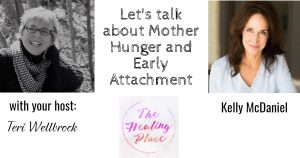 What a powerful, informative, transformative, and inspirational conversation I enjoyed with Kelly McDaniel, LPC, NCC, CSAT. Please join us as we discuss:
Mother Hunger ®
early attachment injuries
her upcoming book release Mother Hunger
Her book Ready to Heal: Breaking Free of Addictive Relationships
EMDR
and more!
Welcome to The Healing Place Podcast! I am your host, Teri Wellbrock. You can listen in on Pandora, iTunes, Blubrry, Spotify, Deezer, Google Podcasts, Podbean, and more, or directly on my website at www.teriwellbrock.com/podcasts/. You can also watch our insightful interview on YouTube.
Bio:
"In her practice, Kelly McDaniel, LPC, NCC, CSAT, author and psychotherapist, offers Individual Intensives for women living with the generational legacy of Mother Hunger. Kelly works carefully and confidentially with clients as they navigate the tender, primitive wound that comes from an early broken heart.

Kelly is writing a new book about Mother Hunger®. to be published by Hay House in 2021. Expanding her concept of Mother Hunger from Ready to Heal (McDaniel, 2008), she has developed a treatment process to soothe the complex betrayal trauma that lies beneath maladaptive eating habits and what she calls Intimacy Intolerance.

Kelly is a Licensed Professional Counselor (LPC) since 2005 and a Nationally Certified Counselor (NCC). Her background includes a Master's Degree in English Literature from Georgetown University in Washington, DC and a Master's Degree in Counseling from St. Mary's University in San Antonio, TX.

In graduate school, Kelly minored in Women's Studies, and formulated her practice around the principles of Relational and Cultural Theory. Additional training includes Sue Johnson's 'Emotionally Focused Therapy', Pia Mellody's 'PIT model', EMDR 'Eye Movement Desensitization and Reprocessing' as well as Family Constellation work.

In 2008, Gentle Path Press published McDaniel's first book Ready to Heal written for women healing from addictive love and sex. Ready to Heal outlines the inescapable impasse that occurs for women programmed for love but pathologized for desire.

In 2012, McDaniel collaborated with 9 other clinicians to write and publish Making Advances: A Comprehensive Guide for the Treatment of Female Love and Sex Addicts. At conferences and workshops, Kelly speaks and teaches about the cultural legacy for women that creates Mother Hunger, Addiction and Heartbreak."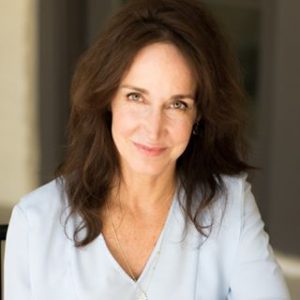 Learn more about Kelly and her mission at: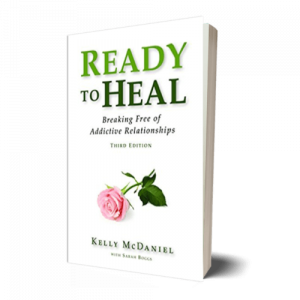 Peace to you all!
Teri
Hope for Healing Newsletter: https://mailchi.mp/741bdf08d718/hope-for-healing-newsletter-may-2019
Book Launch Team: https://www.facebook.com/groups/unicornshadows/
Podcast: Play in new window | Download
Subscribe: Apple Podcasts | Google Podcasts | Spotify | iHeartRadio | RSS | More