Dr. Nima Rahmany – The Overview Method & Becoming Trigger-Proof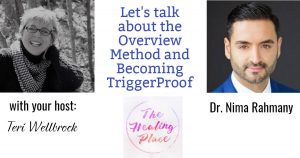 I feel blessed to have had the opportunity to engage in a deep, informative, and beautifully insightful conversation with Dr. Nima Rahmany, chiropractor turned edutainer. Please join us as we discuss:
Dr. Nima's personal stories of triumph
his Overview Method
the science behind becoming triggerproof
hope vs. commitment
the impact of childhood experiences on intimate relationships
and more!
Welcome to The Healing Place Podcast! I am your host, Teri Wellbrock. You can listen in on Pandora, iTunes, Blubrry, Spotify, Deezer, Google Podcasts, Podbean, and more, or directly on my website at www.teriwellbrock.com/podcasts/. You can also watch our insightful interview on YouTube.
Bio:
"Dr. Nima Rahmany is a Chiropractor turned 'Edutainer' on a mission to teach business executives, entrepreneurs, and teenagers about how to dissolve the ROOT CAUSE of stress.He is the creator of a breakthrough new tool called TheOverview MethodTM where participants are taken through an exercise to clear emotional baggage and resentment that holds them back from moving to new levels in business, health, and family relationships.The Overview ExperienceTM masterfully allows you to:

• Gain a fresh perspective on your life.

• Find your purpose

• Dissolve the baggage of your past (in one day)

• NO positive thinking— learn "Balanced" and "Authentic" and "Whole" thinking"

• Learn YOUR true path towards "happiness" and "success"

• Learn to Heal from emotionally-induced and stress-induced disorders

Dr. Nima has helped countless people in his 20+ years of practice as a Chiropractor and helps people who are stuck in toxic relationships who, career limbo, and emotional trauma overcome their anxiety and create powerfully aligned  relationships by deepening their intimate relationship with the most important person of all: themselves.

He has also appeared on numerous podcasts including:

Black Sheep Chiro Podcast, Inside the Champion's mind, The Chiropractic Philanthropist, The Get Naked Show, Rockstar Doctor Life, Lifestyle Locker, The Eczema Podcast, Pave Your Paradise and more!"
Learn more about Dr. Nima and his mission at:
Peace to you all!
Teri
Hope for Healing Newsletter: https://us18.campaign-archive.com/?u=8265f971343b0f411b871aba1&id=1352bd63df
Book Launch Team: https://www.facebook.com/groups/unicornshadows/
Podcast: Play in new window | Download
Subscribe: Apple Podcasts | Google Podcasts | Spotify | iHeartRadio | RSS | More