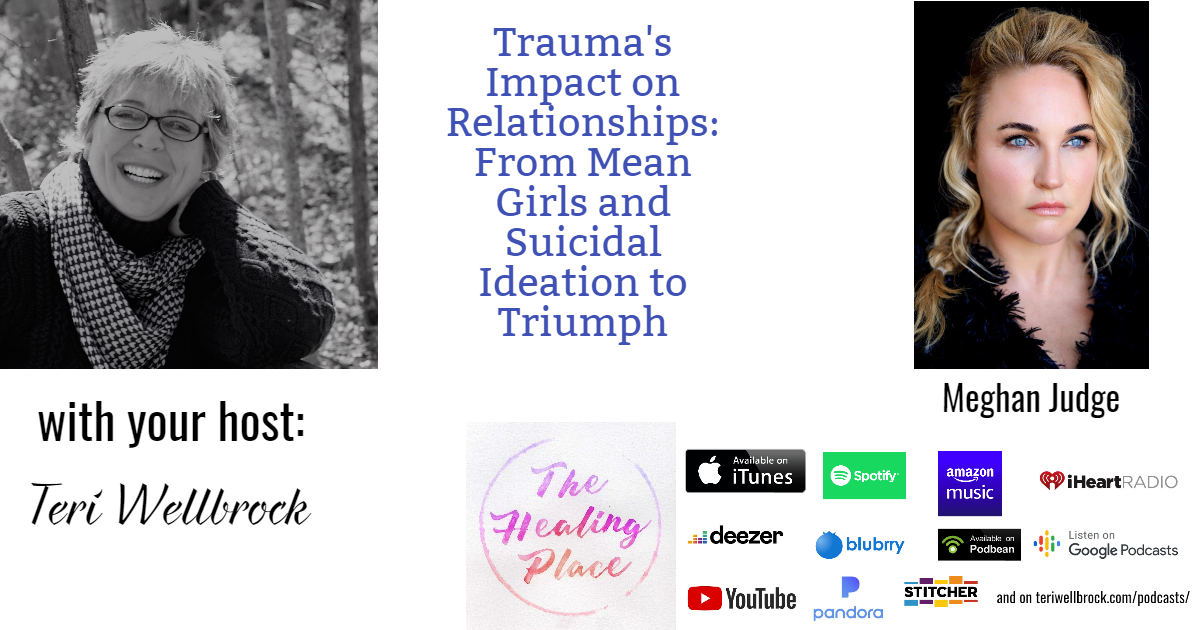 Meghan Judge – Trauma's Impact on Relationships: From Mean Girls and Suicidal Ideation to Triumph
Meghan Judge, mental health advocate, trauma survivor, and podcast host, had me captivated with her trauma story, resonating with her truths, and laughing from her wit and humor. Please join us as we discuss:
Meghan's personal story of triumph over trauma
her insights on moving past the pain of traumatic events
her philosophies on relationships and mean mom clicks
a conversation on suicidal thoughts
and so much more!
Welcome to The Healing Place Podcast! I am your host, Teri Wellbrock. You can listen in on Pandora, iTunes, Blubrry, Spotify, iHeartRadio, Stitcher, Deezer, Google Podcasts, Amazon Music, and more, or directly on my website at www.teriwellbrock.com/podcasts/. You can also catch soundbites of our insightful interview on YouTube.
Bio:
" We're all put here for a reason, and after surviving years of trauma and being diagnosed with Complex PTSD, Meghan Judge discovered hers – to help share the stories of survivors and show others there's a way out.

Death, abuse, and abandonment surrounded Meghan for much of her life, to the point where she did not want to go on anymore. Realizing that many people worldwide could benefit from hearing how she survived an unimaginable situation and used humor to overcome her circumstances, she launched a podcast to help those going through hardships in life.

From recovering to surviving and thriving, each of us has the strength to come out on the other side. Through Meghan's podcast, Judging Meghan, she fearlessly explores stories that prove our strength and resilience as human beings while using a abit of humor to lighten the mood."

Website: https://judgingmeghan.com/
Peace,
Teri
Hope for Healing Newsletter: https://us18.campaign-archive.com/?u=8265f971343b0f411b871aba1&id=1352bd63df
Book Launch Team: https://www.facebook.com/groups/unicornshadows
AMAZON AFFILIATE
Teri Wellbrock and Unicorn Shadows are a participant in the Amazon Services LLC Associates Program, an affiliate advertising program designed to provide a means for sites to earn advertising fees by advertising and linking to Amazon.com. In other words, I make commission off of purchases made using any affiliate links on my site.
Podcast: Play in new window | Download
Subscribe: Apple Podcasts | Google Podcasts | Spotify | iHeartRadio | RSS | More