Vic Compher & Rodney Whittenberg – CAREGIVERS Film
Welcome everyone!
I am excited to introduce Vic Compher and Rodney Whittenberg, co-producers of the award-winning film "Portraits of Professional Caregivers: Their Passion, Their Pain." We engage in a deep and informative conversation about their mission, journey, roles in the development of this powerful project, and more.
I had the honor of viewing the film before speaking with them on air and found myself moved to tears. I connected with this film and the featured caregivers not only as a trauma-survivor, but as someone who has worked in the mental health field and school settings as a caregiver. So much appreciation and positive support sent to all of those who have answered the calling of caregiver.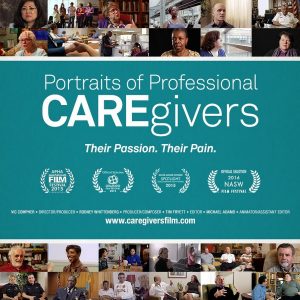 A huge thank you to Vic and Rodney for sharing their film and insights with us all!
Peace,
Teri
Listen in to this episode and past podcasts at www.teriwellbrock.com
Podcast: Play in new window | Download
Subscribe: Apple Podcasts | Google Podcasts | Spotify | iHeartRadio | RSS | More