Dr. Dana Philossaint – Forgiveness as a Spiritual Journey; H.E.A.R.T Work; & the THISMIND program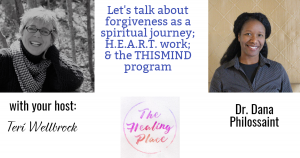 A deeply beautiful and brilliant conversation with Dr. Dana Philossaint, lead counselor and CEO of MindCare, psychologist, social worker, and medical missionary. Please join us as we discuss:
Dr. Dana's philosophies on forgiveness
the role of spirituality in forgiving
what she means by forgiveness being H.E.A.R.T. work
her THIS MIND program
and so much more!
Welcome to The Healing Place Podcast! I am your host, Teri Wellbrock. You can listen in on Pandora, iTunes, Blubrry, Spotify, iHeartRadio, Stitcher, Deezer, Google Podcasts, Amazon Music, and more, or directly on my website at www.teriwellbrock.com/podcasts/. You can also watch our insightful interview on YouTube.
Bio:
"Dr. Dana Philossaint, CEO of MindCare – Childhood Trauma Therapy. She is an author, speaker, and founder of Mental Health University, an online training  course devoted to helping people accomplish mental health. As an educational psychologist, licensed clinical social worker, and a certified multilingual school psychologist, she has 21 years in the mental health field helping many individuals overcome trauma. She is also the director of InVerse Focus, a nonprofit 501(C)(3) organization, dedicated to enhancing the mental health of individuals, families, and communities."
Teri
Hope for Healing Newsletter: https://us18.campaign-archive.com/?u=8265f971343b0f411b871aba1&id=1352bd63df
Book Launch Team: https://www.facebook.com/groups/unicornshadows
Podcast: Play in new window | Download
Subscribe: Apple Podcasts | Google Podcasts | Spotify | iHeartRadio | RSS | More