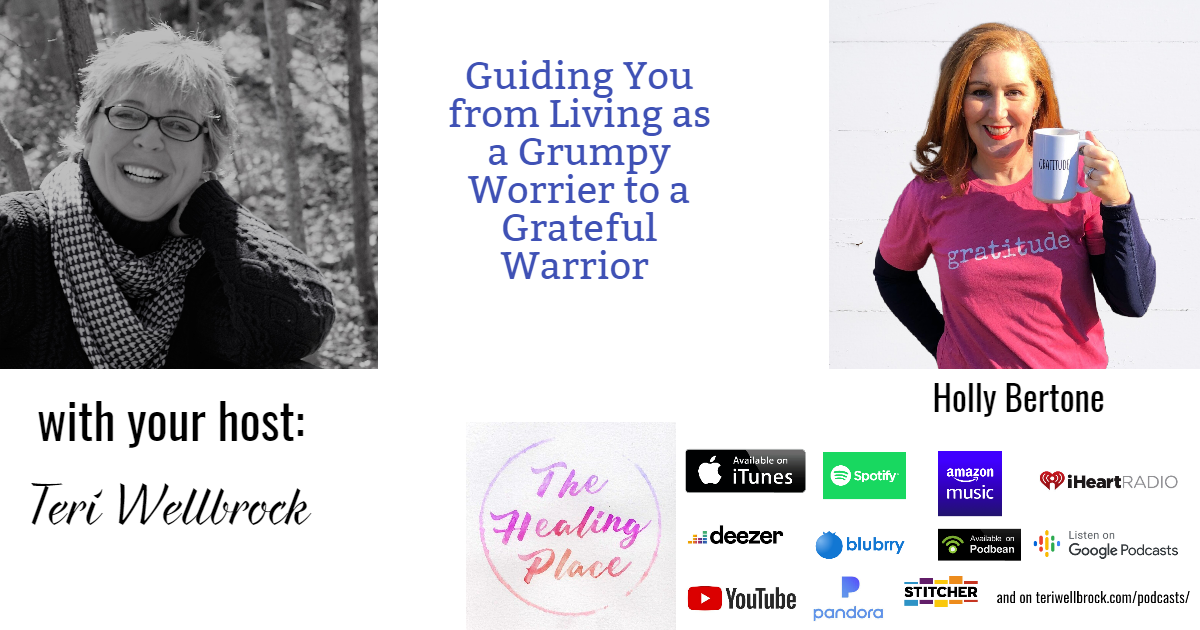 Holly Bertone – Guiding You from Living as a Grumpy Worrier to a Grateful Warrior
So very thankful to have had the opportunity to learn from best-selling author, speaker, and gratitude coach, Holly Bertone. Please join us as we discuss:
Holly's personal trauma to triumph story
her insights on gratitude from the inside out
her philosophies on living a life of gratitude YOUR way when the List of 3 Things for Which to Be Grateful does not work
her role as a Certified Natural Health Coach
and so much more!
Welcome to The Healing Place Podcast! I am your host, Teri Wellbrock. You can listen in on Pandora, iTunes, Blubrry, Spotify, iHeartRadio, Stitcher, Deezer, Google Podcasts, Amazon Music, and more, or directly on my website at www.teriwellbrock.com/podcasts/. You can also catch soundbites of our insightful interview on YouTube.
Bio:
"Holly Bertone, PMP, CNHP is a #1 Amazon.com bestselling author, sought after speaker and gratitude coach. As a breast cancer and autoimmune survivor, she helps women view their diagnosis as a gift so that they can unwrap resilience to build fortitude with gratitude.

Holly spent 25 years rising through the ranks of consulting and federal government service before her failing health shattered her corporate dreams. Since then, she has leaned into her path of true purpose, as the President and CEO of Pink Fortitude and founder of Fortitude Academy, by helping women go from being Grumpy Worriers to Grateful Warriors.

She is a Project Management Professional (PMP), holds a Masters Degree from Johns Hopkins University, and is a Certified Natural Health Coach.

Holly is married to a retired Green Beret, is a Stepmother to an Eagle Scout, Pug mamma, and lives in Alexandria, VA."

Website: https://pinkfortitude.com/

A special gift for the listeners of The Healing Place Podcast! https://pinkfortitude.mykajabi.com/healing-place-podcast-welcome
Peace,
Teri
Hope for Healing Newsletter: https://us18.campaign-archive.com/?u=8265f971343b0f411b871aba1&id=1352bd63df
Book Launch Team: https://www.facebook.com/groups/unicornshadows
AMAZON AFFILIATE
Teri Wellbrock and Unicorn Shadows are a participant in the Amazon Services LLC Associates Program, an affiliate advertising program designed to provide a means for sites to earn advertising fees by advertising and linking to Amazon.com. In other words, I make commission off of purchases made using any affiliate links on my site.
Podcast: Play in new window | Download
Subscribe: Apple Podcasts | Google Podcasts | Spotify | iHeartRadio | RSS | More