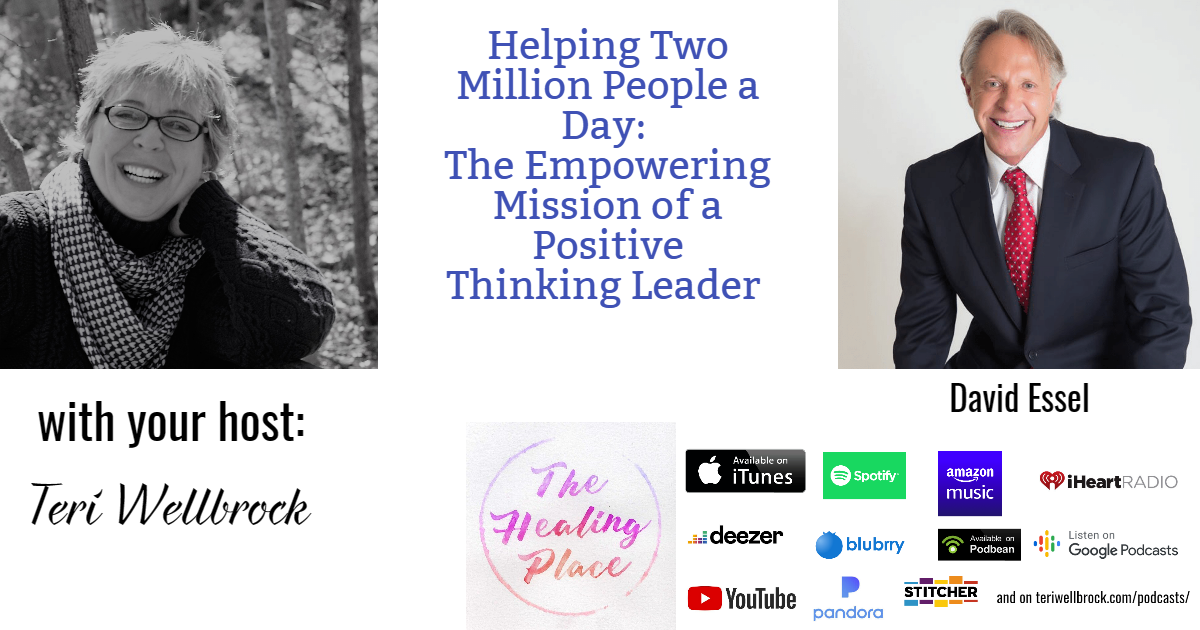 David Essel – Helping Two Million People a Day: The Empowering Mission of a Positive Thinking Leader
I am thrilled to share this positivity-packed conversation with David Essel, Executive Coach, Counselor, and #1 Best-Selling Author. Please join us as we discuss:
David's personal story of addiction, recovery, suicide attempt, and mental health struggles
his empowering mission of helping two million people a day
what does he mean by "taking charge"
his explanation of addiction recovery processes
free gift offers
and so much more!
Welcome to The Healing Place Podcast! I am your host, Teri Wellbrock. You can listen in on Pandora, iTunes, Blubrry, Spotify, iHeartRadio, Stitcher, Deezer, Google Podcasts, Amazon Music, and more, or directly on my website at www.teriwellbrock.com/podcasts/. You can also catch our insightful interview on YouTube.
Bio:
David Essel, M. S. O.M., is a #1 best-selling author (14), counselor, executive coach, international speaker, radio/tv/podcast host, sport psychology coach and all faiths minister whose mission is to positively affect 2 million people or more every day, in every area of life, regardless of their current circumstances.

Celebrity Jenny McCarthy says "David Essel is the new leader of the positive thinking movement."

David's newest book, "MENTAL MASTERY AND MAXIMMUM PERFORMANCE FOR PROFESSIONAL ATHLETES", is based on his experience and stories from his 43 years as a Sport Psychology Coach, detailing what it takes to handle the pressures. stress and mental health issues that these professionals face on a daily basis.

David's 13th book, endorsed by treatment center owners. doctors and clients, is completely changing the world of recovery! "David Essel's Permanent Alcohol and Life Recovery", is so advanced and unique, that people who never thought they could be free of any addiction…are now free!

Another recent book, "HELPING AMERICANS HEAL: THE ULTIMATE GUIDE TO HEALING DURING THESE CHALLENGING TIMES", just became another #1 best seller!

"THE ULTIMATE GRATITUDE JOURNAL: 52 WEEKS TO A NEW YOU!", a unique gratitude program, was just released in 2022.

His previous book, "Love and relationship secrets….that everyone needs to know!", has been labeled as the "New bible on love and communication."

His 10th book book went #1 bestseller in 3 months, a mystical romance novel set in the Hawaiian Islands called "Angel on a Surfboard", which offers the 6 keys to deep love.

Another #1 best seller "FOCUS! SLAY YOUR GOALS…THE PROVEN GUIDE TO HUGE SUCCESS, A POWERFUL ATTITUDE AND PROFOUND LOVE", was recently selected by the influential blog BOOKAUTHORITY.ORG as one of the top 100 GOAL SETTING BOOKS OF ALL TIME!

David's work of 43 years is also highly endorsed by the late Wayne Dyer, "Chicken Soup for the Soul" author Mark Victor Hansen, as well as many other celebrities and radio and television networks from around the world.

He has been an Adjunct Professor at both Florida Gulf Coast University and Edison State College, (now called Florida Southwestern College) for several years, teaching his "Public Speaking Course" as well as his "Mental Health and Master Life Coach Certification".

He is verified through Psychology Today, Theravive and Therapy Tribe as one of the top Counselors and Executive Life Coaches in the USA, and is verified through Marriage.com as one of the top relationship counselors and experts in the world.

David accepts new clients every week into his 1 on 1 programs from around the world at www.davidessel.com.
Website: www.talkdavid.com
Peace,
Teri
Hope for Healing Newsletter: https://us18.campaign-archive.com/?u=8265f971343b0f411b871aba1&id=1352bd63df
Book Launch Team: https://www.facebook.com/groups/unicornshadows
AMAZON AFFILIATE
Teri Wellbrock and Unicorn Shadows are a participant in the Amazon Services LLC Associates Program, an affiliate advertising program designed to provide a means for sites to earn advertising fees by advertising and linking to Amazon.com. In other words, I make commission off of purchases made using any affiliate links on my site.
Podcast: Play in new window | Download
Subscribe: Apple Podcasts | Google Podcasts | Spotify | iHeartRadio | RSS | More