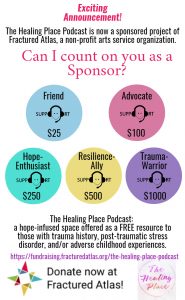 Tonight's podcast episode was the result of an impromptu Facebook Live interview with my mom, better know as GJ for Grandma Joann, in celebration of her reaching the 6 month milestone of sobriety. The beast of her alcoholism has been something we have all battled in our family . . . from our co-addictive relationships as husband and children to my mom's struggles with vodka, pills, and depression.
Part of my healing journey has been working through the traumatic events experienced as a result of this family affliction. The horrors of an attempted stabbing (she tried to kill my dad with a butcher knife), attempted drownings (of four-year-old me with my one-year-old sister beside me in the bathtub), incarceration (due to stabbing incident), suicidal ideation, countless bouts with detox resulting in hospitalization, as well as the humiliation dumped upon us children in her moments of rage and resentment, left me seeking a mother I thought I'd never have.
When sober, oh what an angel on earth she is. Truly. The kindest, sweetest, funniest lady around. She was brilliant at her job and known for her hilarious jokes. Wherever we go, someone is stopping us to hug on my mom.
However, when vodka hit her system and she was behind the closed doors of our little apartment on the outskirts of Cincinnati, a monster appeared.
In July, 2019, after receiving a call from my younger sister, as I stood atop a mountain in Estes Park, Colorado, I finally decided I'd had enough. I could no longer be the one to swoop in and clean up the mess. I was going to have to walk away. Turn my back on my then 83-year-old mother and let her flail alone. She would have to be the one to save herself.
Truly one of the most difficult decisions I had ever made. But, it had to be done.
And she did it! She started seeing two counselors. She stopped drinking. And she finally started mending her broken pieces and talking about her own ACEs (adverse childhood experiences). I didn't speak to her for three months. Neither did my sister. Nor any of her seven grandchildren. We all left her alone to face and slay her own demons.
I am beyond proud of her for conquering her biggest fear. And learning to live life beyond the bottle.
We laugh. We talk. We sing. We go on shopping dates. Today I had her try sushi for the first time in her life at my favorite Asian bistro. She loved it!
All those precious gifts I craved as a little girl. I have been gifted with them at fifty-three.
I love you, Mom.
Please join my Hope for Healing Newsletter at www.teriwellbrock.com (click on SUBSCRIBE in the upper corner)
Podcast: Play in new window | Download
Subscribe: Apple Podcasts | Google Podcasts | Spotify | iHeartRadio | RSS | More