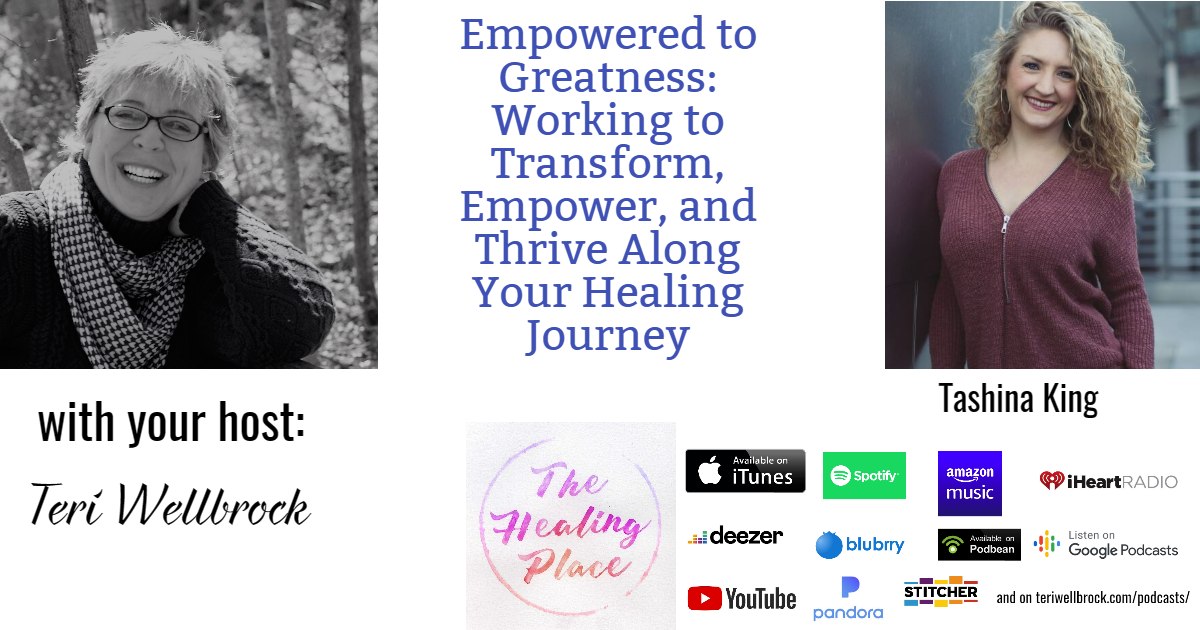 Tashina King – Empowered to Greatness: Working to Transform, Empower, and Thrive Along Your Healing Journey
Such an inspirational and empowering conversation with Tashina King, Women's Mindset and Confidence Coach and founder of Empowered 2 Greatness. Please join us as we discuss:
Tashina's personal story of shifting her subconscious messages in order to make her dreams a reality
her insights on brain plasticity and re-wiring old thinking patterns to reach the thriving level
the inspiration behind her empowering work as a mindset and confidence coach
her mom's current health journey and impact on Tashina's empowerment work
and so much more!
Welcome to The Healing Place Podcast! I am your host, Teri Wellbrock. You can listen in on Pandora, iTunes, Blubrry, Spotify, iHeartRadio, Stitcher, Deezer, Google Podcasts, Amazon Music, and more, or directly on my website at www.teriwellbrock.com/podcasts/. You can also catch soundbites of our insightful interview on YouTube.
Bio:
"Tashina King is an internationally recognized top instructor in the performance
space with over 10 years of experience supporting and coaching women
from all over the world. Tashina understands just how vital it is to look at
the whole-woman when it comes to the goals and desires each woman has.
It is crucial to nurture and transform the foundation upon which those goals
and desires are rooted in so they may be reached with ease, confidence, and
joy.

Tashina understands the demands of being a woman. She has owned her
own business since 2008, has toured over thirteen countries as a coach and
professional dancer while being married and having a two year old son.
Through her tours and coaching practice she has coached over 8,000
individuals throughout the world on self-worth, confidence, and taking
ownership of their life."

Contact:

Tashina@Empowered2Greatness.com

719-661-3435

@tashinaking

Tashina's FREE offer for listeners:
Peace,
Teri
Hope for Healing Newsletter: https://us18.campaign-archive.com/?u=8265f971343b0f411b871aba1&id=1352bd63df
Book Launch Team: https://www.facebook.com/groups/unicornshadows
AMAZON AFFILIATE
Teri Wellbrock and Unicorn Shadows are a participant in the Amazon Services LLC Associates Program, an affiliate advertising program designed to provide a means for sites to earn advertising fees by advertising and linking to Amazon.com. In other words, I make commission off of purchases made using any affiliate links on my site.
Podcast: Play in new window | Download
Subscribe: Apple Podcasts | Google Podcasts | Spotify | iHeartRadio | RSS | More