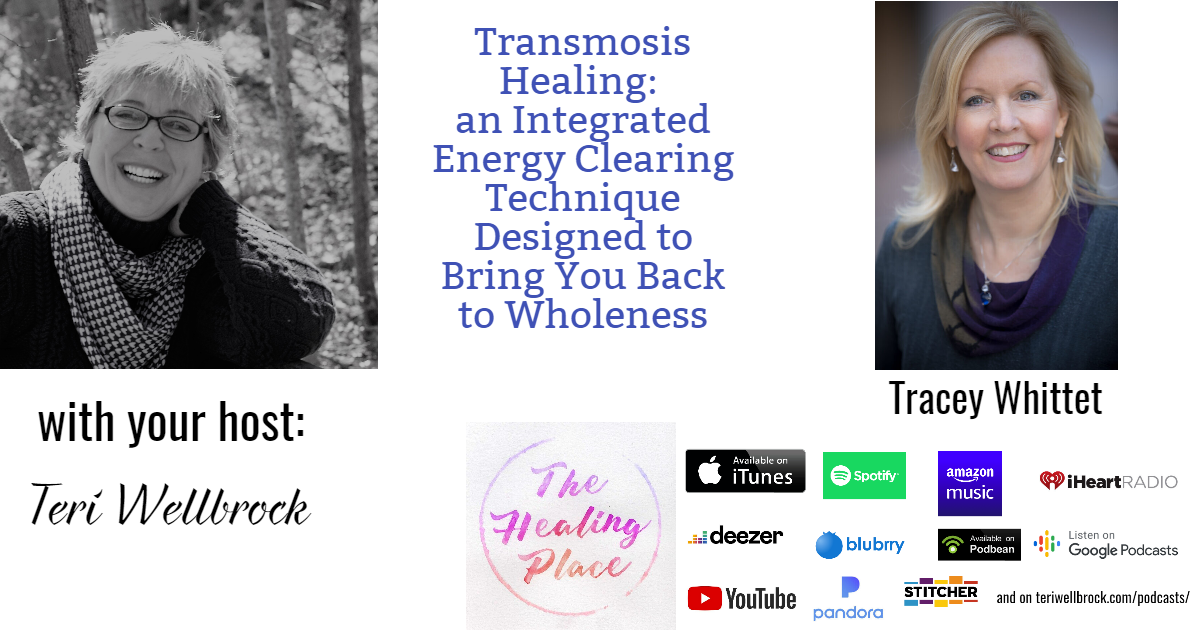 Tracey Whittet – Transmosis Healing: an Integrated Energy Clearing Technique Designed to Bring You Back to Wholeness
This powerful yet light-hearted conversation with Tracey Whittet, teacher, healer, intuitive, facilitator, and creator of Transmosis Healing, had me eager to learn more! Please join us as we discuss:
Tracey's explanation of Transmosis Healing and how it came to be
her personal journey from corporate America into the healing arena
her philosophies on consciousness, awareness, intuition, energy and more
her book (available to download for FREE on her website!) The Magi Within: Unlocking the Gifts of the Inner Self
and so much more!
Welcome to The Healing Place Podcast! I am your host, Teri Wellbrock. You can listen in on Pandora, iTunes, Blubrry, Spotify, iHeartRadio, Stitcher, Deezer, Google Podcasts, Amazon Music, and more, or directly on my website at www.teriwellbrock.com/podcasts/. You can also catch soundbites of our insightful interview on YouTube.
Bio:
"Tracey Leigh Whittet is a spiritual energy healer, sacred conduit, and intuitive guide located in Santa Fe, NM. Transmosis Healing is a unique, integrated blend of energy modalities that offers people multidimensional body balancing. These sessions clear non-beneficial energies on all levels, layers, timelines, and dimensions. Clients feel better, happier, lighter, and are uplifted by the 100% pure divine light clearing. Clients receive an audio recording of the channeled clearing to support integration and to go even deeper.

Training in many energy healing modalities has revealed a gift that by sharing what I see and hear and describing the energies presented provides deep healing. It seems to be a divine gift to be a messenger for our highest and greatest good.

I am a Certified Spiritual Healer, Multidimensional Body Balancer, Reiki Master, Access Consciousness Bars® and Body Facilitator, Creative Wellness Instructor, a practitioner in Divine Healing Hands, Theta Healing, Yuen Method, Healing Touch, etc. These trainings have evolved and led me to my integrated method that Spirit has termed Transmosis (An unconscious transfer and assimilation of higher energies to raise the recipient's energy to equal the source energy)."

Website:
Peace,
Teri
Hope for Healing Newsletter: https://us18.campaign-archive.com/?u=8265f971343b0f411b871aba1&id=1352bd63df
Book Launch Team: https://www.facebook.com/groups/unicornshadows
AMAZON AFFILIATE
Teri Wellbrock and Unicorn Shadows are a participant in the Amazon Services LLC Associates Program, an affiliate advertising program designed to provide a means for sites to earn advertising fees by advertising and linking to Amazon.com. In other words, I make commission off of purchases made using any affiliate links on my site.
Podcast: Play in new window | Download
Subscribe: Apple Podcasts | Google Podcasts | Spotify | iHeartRadio | RSS | More