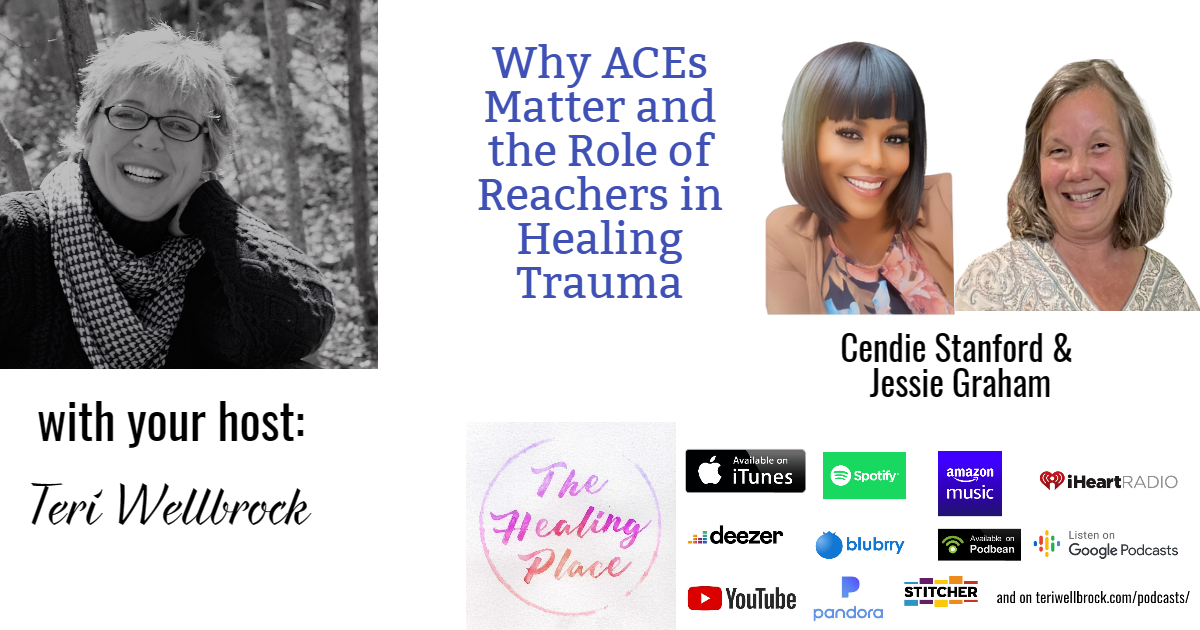 Cendie Stanford and Jessie Graham – Why ACEs Matter and the Role of Reachers in Healing Trauma
I enjoyed this empowering conversation with Cendie Stanford, Founder and CEO of ACEs Matter and Jessie Graham, now joining me for the third time on the show, as a Co-Creating Change coach with a focus on parent coaching. Please join us as we discuss:
Cendie's personal journey that led her to found ACEs Matter 
Jessie's wisdom on trauma recovery as a parent coach
their brilliant insights on adverse childhood experiences and the impact of high ACE scores
how nurturing the neurons and strengthening the roots of children can help prevent and heal the impact of trauma
and so much more!
Welcome to The Healing Place Podcast! I am your host, Teri Wellbrock. You can listen in on Pandora, iTunes, Blubrry, Spotify, iHeartRadio, Stitcher, Deezer, Google Podcasts, Amazon Music, and more, or directly on my website at www.teriwellbrock.com/podcasts/. You can also catch soundbites of our insightful interview on YouTube.
Bios:
"Cendie Stanford is a first-generation college graduate to earn two Master's Degrees, one BA Degree, and a business certificate from the Jones Graduate School of Business at Rice University. A Texas native & former public-school educator, she is extremely passionate about Adverse Childhood Experience (ACE) education and trauma awareness. Cendie Stanford has lived experiences with childhood adversities, most of which were experienced in zip code 79403. Unaware that her childhood adversities played a role in how she responded to stressors in her career as an educator, relationships, and even parenting, she sought out the why. Two decades of experience working in the public education sector, Cendie traded in her classroom keys in order to secure a business license to spread the message of ACEs in corners of the world that needed to hear it most. Living with the consequences of childhood wounds for over four decades, Cendie took a leap of faith to start ACEs Matter as a not-for-profit organization because she believed everyone deserved access to this science. Cendie says, "Seeing adults who are struggling due to the templates from their childhood and seeing children being reared in similar environments motivate her to work harder at this vision for ACEs Matter." Since 2021, Cendie has made several public appearances discussing the impacts of ACEs as a lived experience survivor in underserved and professional communities. Her long-term goals include empowering Title 1 schools and communities with research backed practices that aid in nurturing the neurons of students, parents, and educators that have been affected by adverse childhood experiences. Cendie serves as a mentor for youth and rising education entrepreneurs. She has also conducted more than 10,000 hours of professional development training and over 150 hours of online interviews."

Jessie Graham, M.S.

CERTIFIED MASTER COACH AND EDUCATIONAL CONSULTANT SPEECH LANGUAGE PATHOLOGIST

"Jessie is a Certified Master Coach who has been studying and practicing Speech Language Pathology with a Master's Degree in Communication Science and Disorders, since 1991. She believes that effective communication and healthy relationships are the keys to happiness and a fulfilled and purposeful life. By undertaking and understanding her own self-empowerment process, she supports others through their transformational journey. Her practice in Speech Pathology working with children and families has helped her to understand that people's lives change when they choose to.

Jessie chose to focus her career on inspiring and empowering others to explore their potential for change and focus their actions toward success.

Jessie has experience working in the fields of Mental Health, Early Childhood Care and Education, Public Education as well as with Individuals who want to explore their personal creative expression.

She lives in Maine, near her daughter and family and enjoys exploring, gardening, reading and writing."

Website: https://www.jessiegrahamcoach.com/

 
Peace,
Teri
Hope for Healing Newsletter: https://us18.campaign-archive.com/?u=8265f971343b0f411b871aba1&id=1352bd63df
Book Launch Team: https://www.facebook.com/groups/unicornshadows
AMAZON AFFILIATE
Teri Wellbrock and Unicorn Shadows are a participant in the Amazon Services LLC Associates Program, an affiliate advertising program designed to provide a means for sites to earn advertising fees by advertising and linking to Amazon.com. In other words, I make commission off of purchases made using any affiliate links on my site.
Podcast: Play in new window | Download
Subscribe: Apple Podcasts | Google Podcasts | Spotify | iHeartRadio | RSS | More