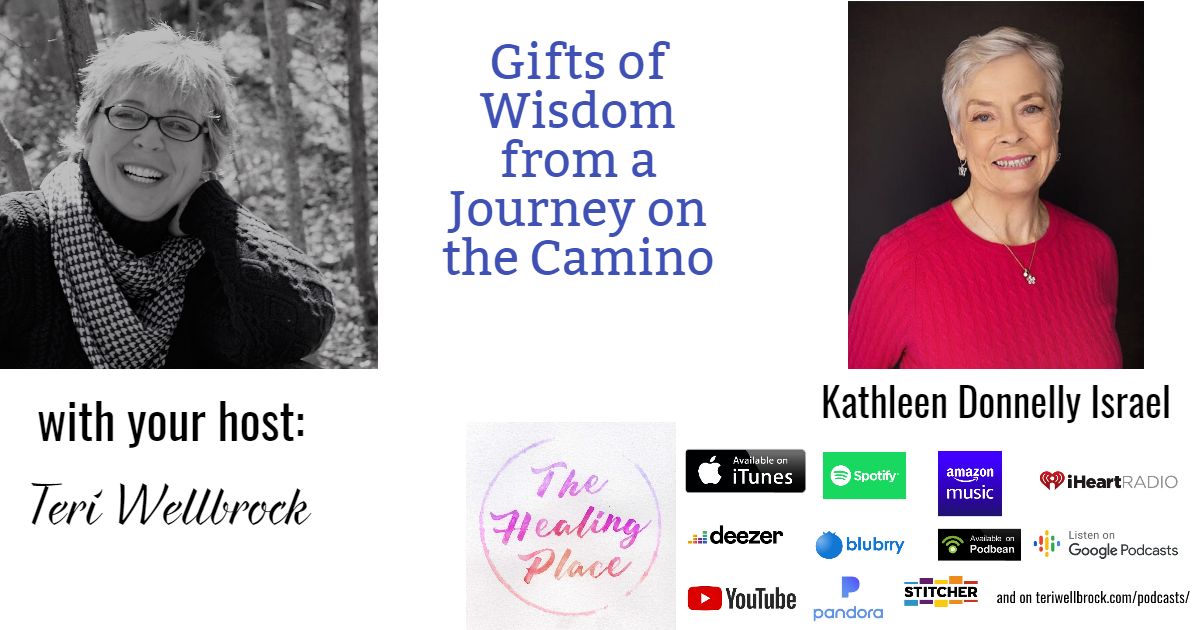 Kathleen Donnelly Israel – Gifts of Wisdom from a Journey on the Camino
Such a beautiful conversation with Kathleen Donnelly Israel, certified Transformational Breathing Facilitator, walker/hiker/runner, and author. Please join us as we discuss:
Kathleens's insights on spiritual healing and studying with enlightened thought leaders
her personal journey on the Camino de Santiago
her book Wisdom on the Camino: A Spiritual Journey Sharing Forgiveness and Possibilities to Inspire the Rest of Your Life
her philosophies on forgiveness, healing, and faith
and so much more!
Welcome to The Healing Place Podcast! I am your host, Teri Wellbrock. You can listen in on Pandora, iTunes, Blubrry, Spotify, iHeartRadio, Stitcher, Deezer, Google Podcasts, Amazon Music, and more, or directly on my website at www.teriwellbrock.com/podcasts/. You can also catch soundbites of our insightful interview on YouTube.
Bio:
"Kathleen Donnelly Israel was born 1949 in San Diego, California where she has lived her whole life. Ron and Kathleen Israel raised their five children in Lakeside, San Diego County. They were a Team Couple for Worldwide Marriage Encounter in the 70s and 80s.

She has a Bachelor's Degree in Art from San Diego State University. She studied Expressive Arts Therapy at the European Graduate School in Switzerland. She is a certified Transformational Breathing Facilitator, Theta Healer, and has enjoyed a lifetime of walking, hiking, and running.

Kathleen cared for her husband for the 17 years that he had Parkinson's disease until he died in 2018. During this time, she studied spiritual healing from many enlightened thought leaders and teachers. This is her first book."https://www.wisdomonthecamino.com/
Peace,
Teri
Hope for Healing Newsletter: https://us18.campaign-archive.com/?u=8265f971343b0f411b871aba1&id=1352bd63df
Book Launch Team: https://www.facebook.com/groups/unicornshadows
AMAZON AFFILIATE
Teri Wellbrock and Unicorn Shadows are a participant in the Amazon Services LLC Associates Program, an affiliate advertising program designed to provide a means for sites to earn advertising fees by advertising and linking to Amazon.com. In other words, I make commission off of purchases made using any affiliate links on my site.
Podcast: Play in new window | Download
Subscribe: Apple Podcasts | Google Podcasts | Spotify | iHeartRadio | RSS | More