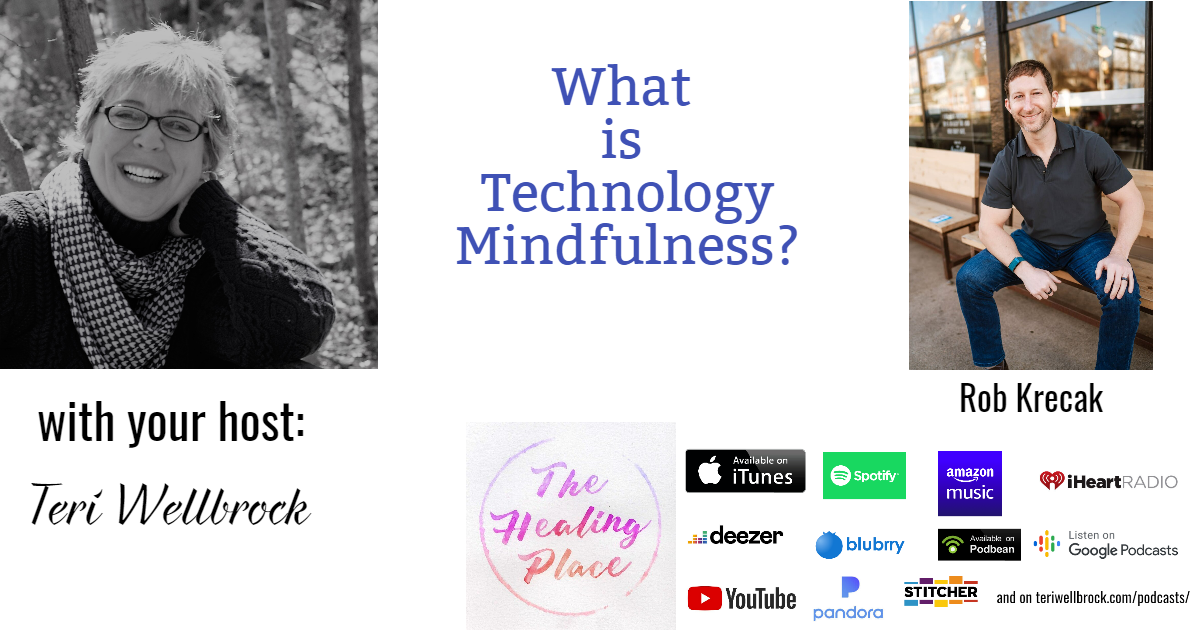 Rob Krecak – What is Technology Mindfulness?
I love it when new ideas come across my radar, especially in relation to building resilience practices. I enjoyed this informative conversation with Rob Krecak, Chief Connection Officer and Founder of Humans First. Please join us as we discuss:
Rob's personal trauma to triumph story
his insights on technology mindfulness
his philosophies on steps we can take to improve our productivity while lessening our screen time
the mission of Humans First
and so much more!
Welcome to The Healing Place Podcast! I am your host, Teri Wellbrock. You can listen in on Pandora, iTunes, Blubrry, Spotify, iHeartRadio, Stitcher, Deezer, Google Podcasts, Amazon Music, and more, or directly on my website at www.teriwellbrock.com/podcasts/. You can also catch soundbites of our insightful interview on YouTube.
Bio:
"Rob Krecak is a thrill-seeker, self-professed nerd, question asker, voracious reader, competitor, keynote speaker, and business builder.

When he first got his Wall Street job as a sell-side equity analyst out of college, he thought he'd made it. After buying everything he wanted on his wishlist, he realized that he still wasn't happy. He listened to his deep-down desire to help more people by leaving finance to eventually own three Anytime Fitness health clubs and four uBreakiFix cell phone repair stores.

As someone vulnerable to technology's addictive hold from a young age—video games and Facebook in particular—Rob is on a mission to help individuals and companies reduce burnout and get back time to master their careers and lives. He founded Humans First to provide a one-of-a-kind coaching experience that analyzes and coaches people's efficiency and energy by paying attention to their mindfulness with technology.

Rob thinks there is always something to be learned from everyone, and he lets his curiosity guide his conversations. In his spare time, he likes to do CrossFit, better himself through reading, travel, and spend time with his wife Niki."

Website: https://www.humansfirst.us/
Peace,
Teri
Hope for Healing Newsletter: https://us18.campaign-archive.com/?u=8265f971343b0f411b871aba1&id=1352bd63df
Book Launch Team: https://www.facebook.com/groups/unicornshadows
AMAZON AFFILIATE
Teri Wellbrock and Unicorn Shadows are a participant in the Amazon Services LLC Associates Program, an affiliate advertising program designed to provide a means for sites to earn advertising fees by advertising and linking to Amazon.com. In other words, I make commission off of purchases made using any affiliate links on my site.
Podcast: Play in new window | Download
Subscribe: Apple Podcasts | Google Podcasts | Spotify | iHeartRadio | RSS | More