Caroline Rose – A Mom with Cancer; the Healing Power of a Dog; and "Hits of Hope" (bonus: a snoring pug!)
Caroline Rose – A Mom with Cancer; the Healing Power of a Dog; and "Hits of Hope" (bonus: a snoring pug!)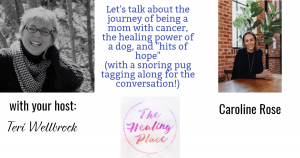 I love the idea of Axl, the pug, snoring along as I was captured by Caroline Rose's story of hope. So very grateful for the opportunity to share her inspirational journey with all of you. Please join us as we discuss:
Caroline's story of 3-time, stage 4, incurable cancer survival, including 2 bone marrow transplants
her mission in sharing her story of hope
tips for offering love and support for others when they are diagnosed with an illness
her "hits of hope"
the powerful story of Riley Rose
and so much more!
Welcome to The Healing Place Podcast! I am your host, Teri Wellbrock. You can listen in on Pandora, iTunes, Blubrry, Spotify, Deezer, Google Podcasts, Amazon Music, Podbean, and more, or directly on my website at www.teriwellbrock.com/podcasts/. You can also watch our insightful interview on YouTube.
Bio:
"Caroline Rose is a three-time, stage 4, incurable cancer thriver. After being told there was no hope, Caroline overcame all odds and beat her cancer three different times. She underwent two bone marrow transplants and countless rounds of chemo- but she emerged on the other side stronger and happier than ever before. Today, she spends her time with her husband and two miracle children. Caroline is a massive dog lover and rescue animal activist. She believes in the healing power of animals and the essential importance of always, always holding on to hope. "
Teri
Hope for Healing Newsletter: https://us18.campaign-archive.com/?u=8265f971343b0f411b871aba1&id=1352bd63df
Book Launch Team: https://www.facebook.com/groups/unicornshadows
Podcast: Play in new window | Download
Subscribe: Apple Podcasts | Google Podcasts | Spotify | iHeartRadio | RSS | More